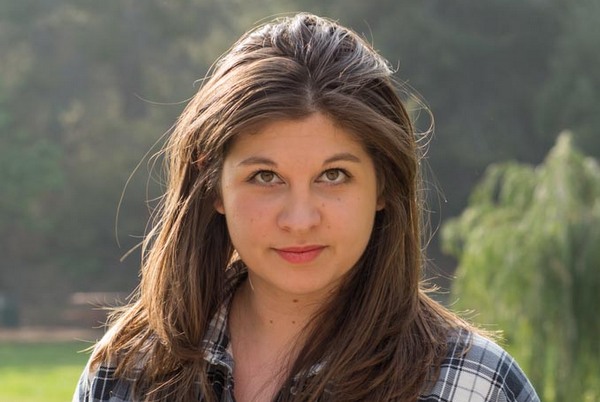 Melissa Vitello began her filmmaking journey over seven years ago when she started her own film company "Dark Heart Films." Melissa Vitello's 'Speak Now' played at over five Los Angeles film festivals including La Femme International and Hollywood Reel Independent. Melissa received many nominations including: Best Director, Best Feature Film, Best Female Filmmaker, and had her leading actress, Camila Banus, win Best Actress at Hollywood Reel Independent. Melissa was recently listed in the top 50 finalists for the ISA (International Screenwriting Association) Fellowship, and continues to forge her way through as a leading female filmmaker in the independent scene.
indieactivity: How would you describe your work as a director?
Melissa: Eye opening, constantly learning, scary, powerful. I feel like every time I am about to direct something I get very nervous. I start to feel like I'm a fake about to get found out. But, once I really start diving in: I feel home. I feel like I know what I'm supposed to be doing and it's an amazing high!
Speak Now Official Trailer from Looking Glass Media on Vimeo.
indieactivity; How did you get into directing?
Melissa: I really wanted to go to film school when I was in my very early twenties, but the costs came up and I couldn't afford it. I was really depressed about it, but then I realized I live in the land of opportunity and I decided to start my own film company with whoever would come on that messy adventure with me. I've been a writer by force of nature since I was a kid, I just decided it was time to start directing and creating it myself until something worked.
indieactivity: How do you choose a project to direct?
Melissa: Character strength, plot, does it make sense? Is it relatable? Is it relevant?
indieactivity: What can female directors bring to TV or FIlm
Melissa: Women are amazing! I've really enjoyed seeing things in the industry shift (slowly, but surely) to more powerful female leads and more interesting roles for women. Especially in the Indie scene. I think women bring a certain kind of deep and raw emotion to the screen and make characters that weren't necessarily meant to be significant suddenly have a very interesting and vital purpose. There's magic in the details – we're good at details.
indieactivity: Do you take courses to improve your craft?
Melissa: Recently we have been so busy with projects (which might as well be film bootcamp) that I, unfortunately, haven't been able to get to courses as much as I'd like. But, I am getting to a point of craving that personal creative connection and did recently start a writing group.
indieactivity: What books do you read?
Melissa: Directing Actors by Judith Weston – (aka the bible for Directors.) I've really been loving the You Are a Bad Ass books, I've also just started reading Bankroll by Tom Malloy, because apparently you need money to make movies.
indieactivity: Why would you choose an actor, writer, or producer? What do you look for?
Melissa: My husband and I are very fortunate to have a little film family of incredibly talented and hardworking writers and producers. I know they will not only give their all to make sure filming runs smoothly, but they also care about the development and safety of the story we're trying to tell. Which, while I know no one will care about my story as much as I do, it's important for me to have people who do care.
As for actors, I will always cast who is right for a role. I love casting friends and am surrounded by some incredible talent, I'm thrilled when they fit the bill. However, the most important thing to me while casting is when I can really see that the actor has done some real work to find some common ground with their character. I love letting a character go safely to an actor I am a hundred percent sure will do them justice and bring themselves into the role.
indieactivity: When you are offered a script, what do you put in place to deliver a good job?
Melissa: Read read read over the script. To a point where I don't have to bat an eye when the actors have questions about their characters motivation, desires, fears, wants and needs. I need to feel like the characters I'm directing are my children I know everything about.
indieactivity: Briefly explain your latest work?
Melissa: The Sound of Settling follows a couple whose relationship has come to a stale point. While they're both unhappy together, they've settled into a place neither of them are willing to question until Abby, our lead, downloads a future telling App called EyeSee. EyeSee reads up on all your social media connections, health records, fitbit connection, everything about you and makes the "most likely" outcome predictions. Of course, EyeSee predicts the end of her relationship right away and Abby is confronted with the choice to save or finally let go of her relationship. Man vs. Technology data driven romance.
indieactivity: What were the key challenges on your last film?
Melissa: Time and money. Always time and money. We also had our lead actress get booked for a national commercial in the middle of the film shoot, while we were thrilled for her, we weren't as thrilled about the sudden schedule changes, but it all worked out. It's just a game of constantly staying on your toes and finding ways to be creative with your budget.
indieactivity: What thing or situation helps you during a production?
Melissa: My husband constantly pushing and challenging me. I know it goes both ways, but I love our team together and I know I work harder and play smarter because he won't let me do anything besides that. That and laughter. There is always laughing on our sets. Filmmaking is hard work, at certain points you have to stop and laugh to get through the rest of the day.
indieactivity; Explain a creative choice you took on set of a recent production?
Melissa: There was a scene where my two lead actors had a very intense moment between them, very quiet and emotional, lots of subtext between their words. Instead of just having them do the motions during their lines, in rehearsal, I made them just sit and hold eye contact and just speak the lines. It brought a really deep and powerful performance to follow in that scene that was really cool to see happen!
indieactivity: How do you advise female director to find projects?
Melissa: I'm probably not the best source of information since most of what I've done has been my own or gigs for my friends. However, I have been finding more networking opportunities lately, there are a lot of women in film network events popping up. I am taking advantage of them. But, I would say just get out there and put your face everywhere. Go to the networking events, join women in film Facebook groups, leave your cards at coffee shops, MAKE THINGS. Make content, if you want people to take you seriously – you need content, content content!!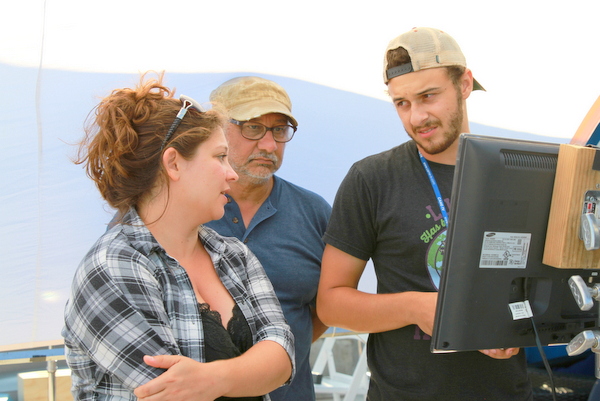 indieactivity: How can filmmakers finance their projects?
Melissa: When you find out, let me know!! Honestly, I feel like this is the million dollar question I still don't really know the answer to. This is one of my learning resolutions for next year and I'm starting by reading Bankroll and talking to as many producers as I can. Ask questions. Ask EVERYONE who's made a movie what their finance angle was. Just keep learning!
indieactivity: What do you want from a actor during a production?
Melissa: I really want them to feel like these characters are entrusted to them to be creative with. I love seeing an actor bring a fresh breath to a scene in a way I hadn't thought of before. I love collaboration and when I feel like the actor and I are on a mission together to find the BEST way to represent this character, I'm in love.
indieactivity: How do you prefer to work with a producer during a production?
Melissa: Again, I love collaboration and I like being on a team. But, I also love having a producer I can trust to just take their assigned work and run with it.
indieactivity: How do you think a film director can get into the film industry?
Melissa: Make things. Anything. Make a short, make a music video, make a feature, if you have the ability, and enter festivals. One of the mistakes I made when I was really young was only entering my shorts in festivals like Sundance and Slamdance. Those are near impossible – but the dream – and my stuff wasn't nearly good enough for those fests. Be honest about your work and find small and local festivals, find growing festivals and connect with the directors. It is the best networking I've ever experienced.
indieactivity: Who is your favorite director?
Melissa: I really have been loving Patricia Rozema!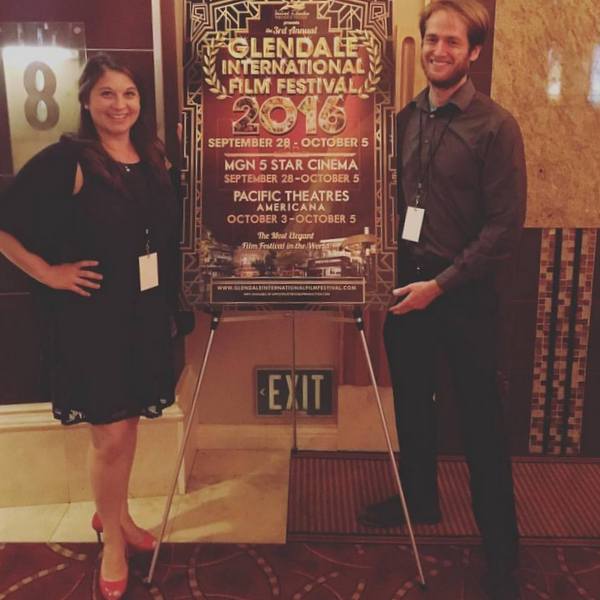 indieactivity: Why
Melissa: Into The Forest was one of my favorites last year. I felt like she did some real soul searching with her characters and brought out this amazing story about humanity and surviving in every sense. It's what I really hope I can accomplish with characters.!
indieactivity: How would you advise female directors?
Melissa: Make things. Submit them to festivals, competitions, anywhere. Talk to EVERYONE, ask questions, read books, get out there – something I need to do more. We're writers and introverts, but there's no way to get anywhere in this industry without showing your face and getting in other people's faces.
indieactivity: Briefly write about your career?
Melissa: Our last feature Speak Now can be seen on Amazon Prime. I worked with actress Camila Banus (Days of Our Lives, Mistresses) and Nicole Bilderback (Clueless, Bring It On). I currently have a short film called The Wait which is premiering at The Orlando Film Festival and about to make its way to others.
This year has been life changing for us in the way of filmmaking. I have grown as a writer and director and am on such a high with all of the good things I know are coming right now. I can't wait to get my hands on our next project, I know I'm giving my husband anxiety, but it's kind of an addiction for me.
I currently write a monthly blog following our work in photography, news on our current projects and always include reviews on indie movies you can catch on VOD. You can follow me along by signing up HERE. You can also follow our latest feature The Sound of Settling on Facebook for all the updates!