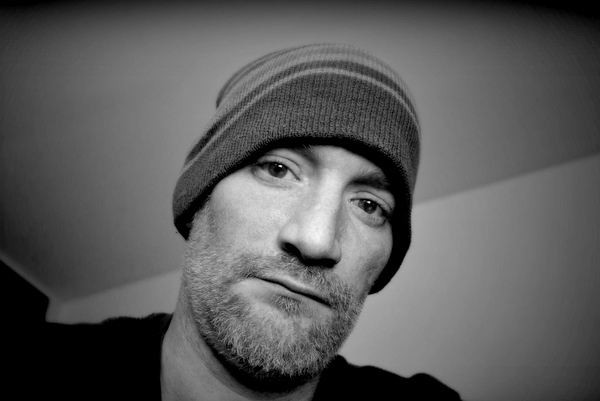 Let's just say I'm a very liberal guy who grew up in a very conservative part of Pennsylvania in the United States. I'm a dad. I went to a good university. I love to talk and tell stories over drinks and food. I'm obsessed with technology. Sometimes I wonder what mankind will do when our planet isn't viable for life anymore, and will we as a species even be around for that? I love hockey, and being around bodies of water. And cats. I love cats.
Buy or rent 'Potential Inertia'
indieactivity: Why did you get into filmmaking and screenwriting?
Matt: I think filmmaking and screenwriting is a natural extension of growing up in the theater. It's another outlet for me to tell stories that really mean something, not just for yourself but stories which can transcend boundaries of race, gender, geography, religion, sexual orientation – a way to connect people on the most naturalistic levels. And film, in itself, can live on a lot longer than one single night at the theater. It can stick around for many generations if cared after, and you also have multiple takes to get it right, get it exactly how you need it to be before putting it out into the world. Now, the writing aspect of things simply comes from an immense love of storytelling. It's something I was always doing, even at a young age.
@AmandaSeyfried @aaronpaul_8 and me, @mattcroyle – Was nice getting to see you guys work! #FathersAndDaughters pic.twitter.com/MaNULUIcaM

— Matt Croyle (@mattcroyle) April 2, 2014
indieactivity: How does a filmmaker distribute his or her film?
Matt: Well, in my own experience, I've noticed that with the advancement of Internet platforms in the past ten years the question you should really be asking is, 'How doesn't an indie filmmaker distribute their films?' If you have an Internet connection, you have a distribution platform. Platforms such as VHX, Distrify, Indie Reign, Vimeo – these are all platforms where you can monetize your films and get them available to a worldwide audience. It's not all about simply getting a theatrical release anymore. Film festivals are still a great way to go. It's nice to travel with your film, see new places, experience new things, meet new people, and network about your passion. At least you're getting it out there, talking about it, bringing it to an audience yourself.
indieactivity: When should a filmmaker start to plan for distribution?
Matt: If we're talking about a true independent feature, a no-to-low budget film, then the advice I would give someone is that it's never too early to look around. Even when you're filming, in your downtime, scour the Internet for available platforms. There are still some amazing arthouse theaters throughout the country that are just looking to showcase a fantastic new indie film. Focus on the product, but always keep the possibilities in the back of your mind.
indieactivity: How can an indie filmmaker with a low-budget film, put his or her film in theatres?
Matt: The way the large chain theater companies work, you don't really have a shot. I'm not saying that to discourage anyone, but those kinds of companies, the ones with four-thousand screens all over the country, they're businesses. They're looking to Hollywood studio films to bring in the profits. They could honestly not care any less about, say, my last feature film – which I self-distributed worldwide on VHX. Again, the key to getting your project to an audience is utilizing what is available to you: Online platforms, film festivals, and arthouse theaters which are independently owned.
indieactivity: How can filmmakers finance their projects?
Matt: As an individual, again, you can use what you have. My first feature was crowdfunded from, I think, people in twelve different countries around the world. We were able to raise over ten thousand dollars to make the film from people who wanted their name on it, people who simply believed in the story and what it had to say. Also, it depends on the scope of your project. If you have a camera, a script, some friends, and some time, you can go out and make a film for absolutely nothing by just going and shooting it. You don't need to wait for someone to give you permission to do so.
indieactivity: What films have you written?
Matt: I've written countless screenplays, but have had one feature, 'Potential Inertia,' and a web series, 'Monster,' both which I have written, actually produced to the extent where they garnered any industry attention. Below is the trailer for 'Potential Inertia' which we released in 2014.
indieacivity: What films have you made?
Matt: I've been on set for quite a few studio films which have shot on location in Pittsburgh, but the only film that is truly my own is 'Potential Inertia'
Buy or rent 'Potential Inertia'
indieactivity: What is your concept on collaboration?
Matt: I think collaboration is a wonderful thing, in whole. We need to share ideas, be open-minded when it comes to working with other people on projects. Everyone's perspective of material is different. When you are able to infuse the best of everyone's ideas into a project, the results can be absolutely magical. As a director, I have to be open to everyone's ideas, but at the end of the day, I also have the responsibility to myself as an artist to put out something from my perspective. Maybe those smaller collaborations and shared ideas have changed my perspective a bit. Collaboration, as a director, is what shapes my own vision.
indieactivity: How do you find the process of filmmaking as an indie filmmaker?
Matt: Making movies outside of the studio system can be a daunting task. You're trying to make a quality film without resources. It's tough, but I really like the challenge. Directing a film is about 10% shooting and about 90% problem solving. It makes for a very interesting dynamic, especially when you – and everyone else on set – has a day job, kids, a family. You have to force yourself to stay with it because you can get caught up.
indieactivity: Describe your recent work, or film?
Matt: My current project is an hour-long, dramatic, independent television pilot titled, 'Circle, Michigan.' We're currently in the shooting phase, and we're quite a bit behind schedule with where I wanted to be at this point in production. And that's not because we're not trying our hardest, but it's more because of logistics. We're prepping to shoot more over the holiday season, as our lead actress will be home on break from her university.
That's the kind of thing you have to let take precedence over independent production if you are willing to sacrifice immediate shooting time for quality actors. When you're not paying them – because you're on a micro-budget – to be there, sometimes you have to wait until they can be – and I'm okay with that, because this particular actor is pretty fantastic.
Pre-production was laid out well. We crowdfunded via Hatchfund, which is a great organization for established artists, to raise only a quarter of what we raised for our feature. So, right there we're limited in what we can ultimately do, but I itemized everything down in the budget to get funding for only what we needed at a minimum. You have better odds of reaching your goal, when asking people for money, if you show them exactly what the money will be used for. People will get behind transparency. After funding, we held a couple of advertised open audition calls. Unfortunately, I didn't see what I wanted. So, in order to get it cast, I contacted people online.
Buy or rent 'Potential Inertia'
Principal photography is where we are at in the current moments. We're shooting when we can, and around people's schedules. It's tough, but when you get back to set after short, or even long breaks, if you are determined enough then you can pull your cast and crew right back to where they left off.
We've been marketing the pilot for the entirety of production, from its announcement until now, and that will continue through post-production. You should always be marketing your projects as an independent artist. Nobody else is going to do it for you. Whether it's a Facebook page, a Twitter account, you're going to need to let people know what is happening. People love updates, too. It keeps them engaged and interested in the project as it moves forward.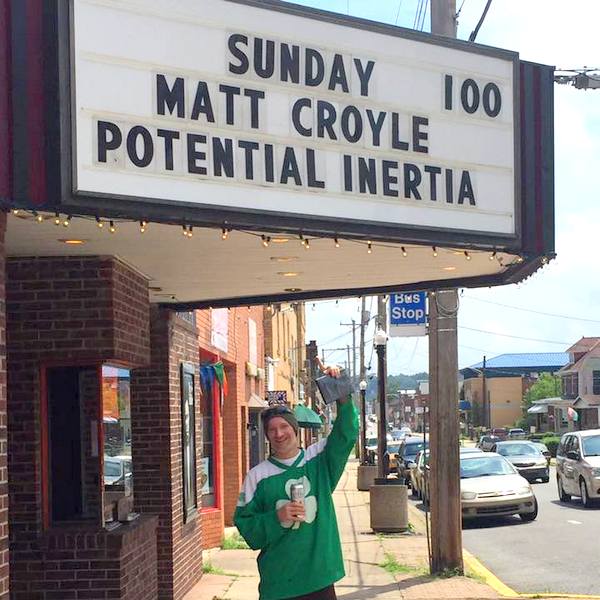 indieactivity: What does an indie filmmakers need in today's world of filmmaking?
Matt: I think as long as indie filmmakers have a passion to create something, and the basic means to create it, then they don't need permission from anyone else. They do, however, need to have something to say. It doesn't have to be the most profound of things, but content without substance won't get you very far. You could have the prettiest looking film in the world, and if it doesn't have anything to say then it won't have an audience. So, if you want to make people laugh, shoot it. If you want to make people happy or angry or mad or sad, shoot it. Just go shoot it.
indieactivity: Briefly describe your career?
Matt: I've been on enough big budget Hollywood sets to understand that as an independent filmmaker it's always hard when you're doing everything yourself – and a lot, if not most of the time, that has always been the case for me. But, in a sense, I can say that there is more of myself in the projects I create than anyone else. I can really say it's mine, even though sixty people could have worked on it at one time or another throughout production.
I believe Christopher Nolan once said, "Do as much on your first feature as you can." And, I get why he said that. It's because you can take credit for the good things that happen, but it also forces you to take credit for the bad things about the film. It forces you to improve on those failures the next time you create something. Failure is the best motivator.
I've been fortunate enough to do my stuff with my friends, or with people who became friends after working on one of my projects. And, it's like anything else in life: When you surround yourself with like-minded, good people who are supportive of what you do, then even if you end up with the worst film ever made you never really truly fail.