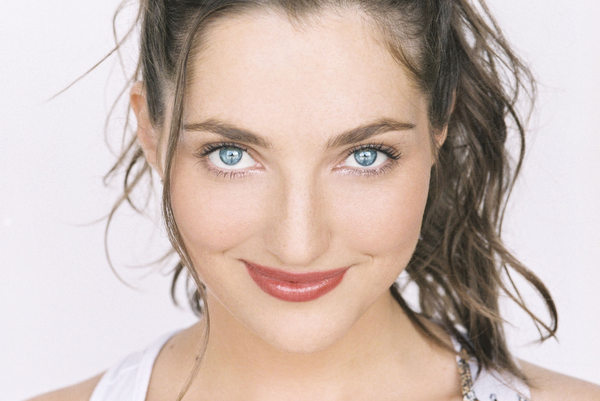 Ilana Guralnik fell in love with acting long before she ever got to do it professionally. Ilana was 5 when she took her first acting class, (Ilana also grew up doing gymnastics, dancing and modeling) and from then on she continuously told my family she would grow up to be an actress, which they strongly discouraged.
The Russian immigrant mentality was to see the arts as an after-school hobby, but never a profession. Ilana Guralnik stubbornly continued, and at the age of 12, she was chosen by her middle school drama teacher to perform in a city-wide drama festival, then winning first prize at the contest.
Ilana Guralnik took acting classes alongside her degree in college, got her first agent and started working on indie films during grad-school, and ultimately finished early (Bachelor's at 20, Master's at 22) to be allowed to move to LA to pursue her dreams professionally.
It started out rough, but little by little she garnered TV and Film credits until things got easier. But for as long as she can remember, she knew she loved the stage, the camera, and the craft.
Love my work #acting #onset #footage #sneakpeak pic.twitter.com/TV0wKFZ054

— Ilana Guralnik (@Ilana_Guralnik) June 10, 2015
indieactivity: Did you study acting?
Ilana: I studied acting forever, starting as a child, growing up in San Francisco, I studied at ACT in college (American Conservatory Theater). Then when I moved to LA, I studied improv at I.O. West, studied the business side of acting at The Actors Network with Kevin E. West, took a bunch of commercial classes, and did group class scene study with Ivana Chubbuck (years ago) and more recently Robert D'avanzo (who rocks by the way). Currently I do private coaching with, who I think is the best coach of all time, Jo Kelly.
indieactivity: What acting technique do you use?
IIana: I use all and none of the techniques at the same time. I believe in learning as much as possible, so I studied all of them over the years (Stanislavsky, Meisner, Method, etc…) and then using that knowledge to determine what works best for you. Acting, to me, is no different than living, and I don't think there is really a 'recipe' or 'formula' to live. But all the techniques can be used to get you to the place where you, or your instrument, can open up best.
indieactivity: You're an experienced actor, how much work: creative, energy do you put into your scenes?
IIana: I hope I put everything I have. And if I don't, then I haven't done my best, and I get upset lol. I have a process, just like all actors, to prepare for scenes, and it is a bit different each time depending on the character, scene etc… But I think the preparation requires all of those, creativity, energy and focus.
indieactivity: You have worked on popular productions: "Nowhere Girl", "The Newsroom", "Brooklyn Nine-Nine", "Alibi boys", "Veep", "Kat Loves LA" and "JewDate", how has each show impacted your career?
IIana: Wow, each one was so different, and I'm extremely grateful for every opportunity I have had to work as an actress. I have gotten to work with some brilliant people, and just being around them or listening to them was impactful. In terms of career, working on those fantastic shows helped my resume, thus giving me more opportunity.
Also exposure, for example, the amazing casting director from "Brooklyn Nine-Nine" Juel Bestrop, called me in to audition for that show after she watched me on "The Newsroom." Work begets work, but I think casting directors who go out of their way to watch TV and remember who they like, are pretty special 🙂
indieactivity: How does the work you do on "Brooklyn Nine-Nine" compare to say "Veep"?
IIana: Every show is different because of the network, the director, the crew, the tone of the writing, etc… For this example, both "Brooklyn Nine-Nine" and "Veep" allow the actors to improv a bit with the writing and try different options given by the director, which I think is really cool. But "Brooklyn Nine-Nine" is a FOX show and "Veep" is an HBO show and each network has its style.
indieactivity: Let's take "The Newsroom", for example, how did you prepare for such a role: the cast, the physicality the set, the production, and the demands of the show?
IIana: Haha… here's the funny thing about that audition; I didn't think I stood a chance. The role was for a Russian woman, and I mistakenly thought there wouldn't be that many Russian actresses in my age range in LA. I was so wrong. I showed up to over 30 versions of me, all actually Russian, all beautiful, all fluent in the language. So I just did my thing with no stress and left thinking there was no chance. I was pleasantly surprised when my agent called to tell me that I booked the show.
In terms of preparing for the shoot, I of course read the script, but we got to rehearse on set. Aaron Sorkin actually calls in and listens to all the rehearsals over the phone, gives notes, and then they shoot. When he said "good job ilana" I almost died. I had been such a fan of his work so that moment stood out to me; though I'm sure nobody else noticed 😉
indieactivity: When you shot "Alibi Boys" how do you create Natasha from a script into a person?
IIana: So, I really admire writers. It's a talent I never had, but I think the creativity required is amazing. Someone writes a whole soul, on a piece of paper, and then it is my job to bring that soul to life, in my own way, but still doing justice to the talent the writer put in to create it.
So, I think the person is already written in the script, but I just make myself that person, and so little bits of "ilana" will seep in, or things that my own creativity sends me once I believe that I am that character will come out. This would literally sounds like an insane person talking to anyone not in the industry, "becoming other people" jeez. But it's what I love.
For "Alibi Boys" in particular, I was lucky to work with John E Seymore, who directed in a way that let us play with the comedy. He was very open to what the actors wanted to try, and created a very comfortable and familiar feeling on set, which let everyone relax and just act.
indieactivity: How did you stay fresh on a production set like Nowhere Girl?
Ilana: Hmm, now that film had special circumstances. Both Jennifer Aspen and Josh Robert Thompson, in addition to being superbly talented, were on shows at the time, which caused the film shooting schedule to be significantly condensed. We shot the whole thing in a matter of weeks, and thus had some very long work days, with actors and crew taking naps between takes.
I loved my character "Katy" so much that I never had trouble "staying in character." I just felt like she was there the whole time, and she just guided me through it. Also, Josh (who played Tyler) and I had a great acting chemistry so it was easy for me to believe that I, as Katy, was in love with Tyler.
indieactivity: Explain one creative choice you took on set?
Ilana: On "Kat Loves LA" which is currently filming, Paget Kagy (brilliant writer and star of the show) told me that Natasha Averin (my character) was the "Charlotte York" of the group, like from "Sex and the City." I took that reference to explain her innocence and love of all things romantic, but also added the element of her wanting to "know it all" and teach and be right when it comes to Kat's love life.
The choice was part of my own creative process, so Paget could have easily said it doesn't work when I got on set, but she was super open to it, and we all compromised in order to create something; which is how I generally see film-making, a big mess of art where writers, directors, actors, and producers come together to create something beautiful.
indieactivity: Describe a memorable character you played?
Ilana: My favorite and most memorable character was "Katy Harvey" in "Nowhere Girl" (2014). That movie had a little piece of my heart. She was perfect and imaginary, as we all know that any perfect woman (or man) can't be real 😉
indieactivity: What do you want most from a director?
Ilana: A balance of direction and freedom. I love when directors guide me and my character and have their overall vision, while still letting the actors have some freedom in creativity.
indieactivity: What actors do you long to work with?
Ilana: Ugh, my list is so long, but there are tons whose work I admire (I have them on my vision board above my desk): Leonardo DiCaprio, Meryl Streep, Robert De Niro, Ryan Gosling, Anna Kendrick, Channing Tatum, Natalie Portman, Charlie Hunnam, etc…
indieactivity: Why?
Ilana: You mean "these" as I have about a thousand of them lol. I admire all for different reasons, but mainly because they all have the ability to bring complete truth to their work in an interesting and unique way.
indieactivity: What advice would you give to actors?
Ilana: I would tell them to be really really 100% sure that this is their passion before deciding to pursue it as a business, because the business is really tough, and only worth it if you can't live without acting. However if that's the case, I say go for it with everything you've got, and be fearless. Otherwise you will always wonder "what if I had tried?" Remind yourself of that certainty about it being your passion, so that every time you are tested and pushed and swayed from side to side, you can hold true to that core belief that you are doing exactly what you should be, and that will give you strength.
indieactivity: Briefly write about your career?
Ilana: My career is like a journey that I am still on, because I'm nowhere near where I want to be, (I have embarrassingly giant ambitions) but I am grateful for every step that brings me closer along the way. Acting, and what I have learned about the art over the years, has taught me a lot about myself: about being ok with myself, about life in general and about how I can apply the acting lessons to personal growth; how I can appreciate all my experiences, both good and bad, as tools towards improving my acting.
I celebrate every small achievement. I've gotten good at the appreciation part, and the dealing with rejection like 'it ain't no thang' part, but I'm still very bad at the patience part. I'll let you know when I figure out how to circumvent that 😉 It's just the unreasonable pushy Russian, Jewish part of me; it can't be helped. 🙂