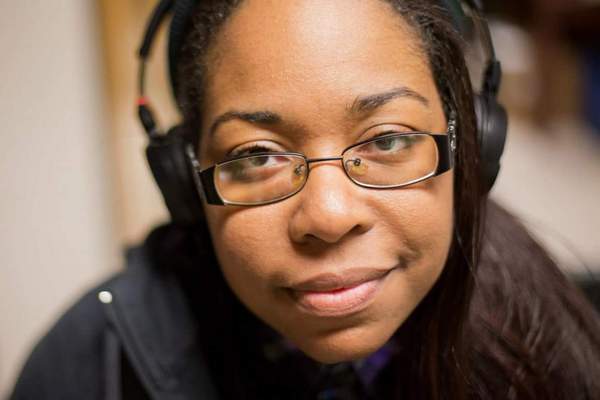 Jolie East-Miji who also goes by "Jo'Jo" was born July 15th to an African American mother and a Congolese father in Baltimore MD. Jolie never knew her father or his family, but she knew her mother's and her godparents who she considers the rock in her life; they are her village. Jolie comes from an older family where she is the youngest. All her relatives are 50+, so to her friends and others Jolie has an old soul. Lol! Being an only child Jolie was prone to have an overactive imagination, especially during the times when she was bullied as a kid, it's how she escaped the world. Jolie East-Miji is a fan of such things as Marvel Comics and different Japanese amines. Jo'Jo would always go off into these worlds.
We think it's about time you guys see the new faces joining us for #BCitySeason2 pic.twitter.com/b4NlfKyYIt

— B-City WebSeries© (@bcityseries) August 30, 2017
Jo'Jo suffered badly from low self-esteem which sort of led her to the passion for writing. She wanted to be a Zoologist when she was younger, her love of animals which she still has was strong. But, Jo'Jo's mother was a very blunt woman lol, and told her straight up "You suck at math, you need to find something else, you might over dose the animals" lol. Most people would find this words harsh, but these words, led Jo'Jo to find her gift even with a low self esteem. At 12 she saw the first X-Men movie again and for the first time saw it differently. Jo'Jo noticed some lighting was not quite right, the dialogue was wonky, and she said to herself "HEY that's a mess, who let that slide."
And from then Jo'Jo began writing. She started out with short 3 minute stories and grew to writing full blown scripts. At 16 she had written her first play "Ain't nothing but gospel Drama", At 18, she wrote, produced and directed her second play. "In the midst of the storm". Both the plays made her 2 grand each! Jo'Jo got to hone in on her skills when she went to Stevenson University where she graduated in 2013 with a BS in Film and Video and a Minor in Theater. From then, Jo'Jo found herself part of small projects, then bigger ones as a production assistant. Her first break was for the INDIE film "A Year and Change" produced by "One Tree Hill" Bryan Greenberg". Then she went on to do some small work for "House of Cards" when they need her. Lol!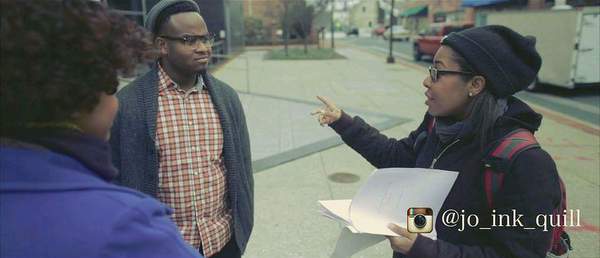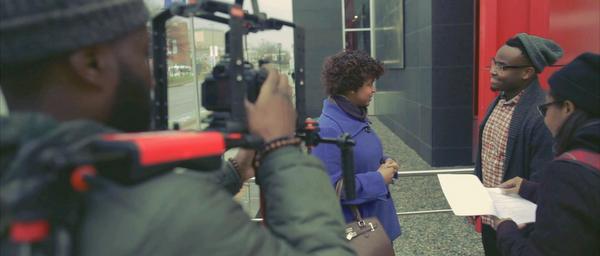 You all know the struggle of the artist's life. The latest film Jo'Jo worked on was "Jackie" starring Natalie Portman. This was probably the biggest moment in her life, because she had to make sure 200 extras did their job; she directed them in a funeral procession. This scared her to death, but all in all "I am just a geeky, always silly Baltimore girl who loves life, animals and film making." says Jo'Jo.
indieactivity: Why did you get into filmmaking and screenwriting?
Jo'Jo: I truly believe it was the gift God gave me. I believe everyone has gifts given to them no matter the job whether big or small. I believe my gift was this. And to think I did not want any part with the entertainment industry as a kid. I remember saying to myself nope this is not what I want to do. But as they say " you want to make God laugh tell him YOUR plans" lol I love the visual world , I love creating worlds that you can only imagine and bring them to life this is why I got into the world of screenwriting and filmmaking.
indieactivity: How did filmmakers finance their projects?
Jo'Jo: Filmmakers can finance their projects through grants, fundraisers, and film funding sites like IndieGOGO.
indieactivity: What films have you written?
Jo'Jo: BloodLine (2013) is one of the films I wrote, and no not the Netflix show. "B-City" 2016 (latest project) is a web series following four childhood friends in Baltimore City who get in and out of crazy situations. It's like the guy version of the show "Girlfriends" there are 8 episodes and I'm working on season II.
indieactivity: What is your concept on collaboration?
Jo'Jo: Its a fairly new concept to me. Working with a crew yea that's normal, but co-writing on something, I haven't done yet at all. But, I'm down do try it, I'm so used to writing by myself. I'm open to new things.
indieactivity: How do you find the process of filmmaking as an indie filmmaker?
Jo'Jo: It takes a lot of heart, prayer, and determination. It's a lot of work, because you don't have a big studio to back you. You are genuinely grinding from beginning to end and then some. But, I wouldn't change what I do for the world. It takes a strong person to do what we do. It takes a lot of sleepless nights, saving like crazy, networking (Networking is key), and finding a great crew that see's your vision as well.
indieactivity: Describe your recent work?
Jo'Jo: Well, B-City is my latest project. It took me about 2yrs to pull it all together. Pre production was me coming out with the idea writing out each script, cast etc. I funded everything by myself, still funding it while in post lol, Along with the help of INDIEGOGO. I had to basically lobby to friends I know if they wanted to be on board with this project and they were down from the get go. Stuff like this you know who your true friends are and with this project they came out. I also took into account food , and paying people. Production, we started filming in March ended in May we would film 3 Sundays out each month, each episode is 6-15min long. Post Production I'm still working on that now lol. Making sure the episodes come out right, they have the right music and sound. Working on ADR with actors if certain things did not come out right.
indieactivity: What are your future goals?
Jo'Jo: Wow, just to make it lol. But on a serious level, own my entertainment company in my city. I feel there is no need to up and leave, why not create where you are. Of course you have to travel out in general but I want to create in my city.
IMDB | Facebook | Twitter | Vimeo | YouTube | Stage32 | Google+ | Flickr