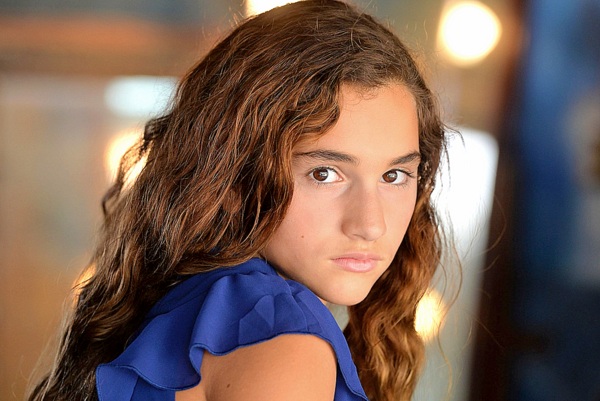 The very first time Giovanna Gigi Cesarè acted was in a short film called "Charity Case" by NYC based Director Jenn Shaw. The film was a festival favorite and her role as Autumn earned Giovanna Gigi Cesarè her first 'Best Actress' nomination at the Young Artist Awards in Hollywood 2016. Gigi was just 7 years-old. It's probably important to mention that her mom is a huge old movie fan, and lover of musicals, and well all music and movies. So walking around belting out Sound of Music or Annie or Barry Manilow's Copacabana was Gigi's norm. There was always music in her house and Gigi's family were always singing. Gigi is currently signed with long-time Hollywood manager Daniel Rojo of Beverly Hills and she's grown tremendously as an actress. It's been the most successful pairing since she began acting.
Gigi has been asked to reprise her role as Jessy from worldwide MMA hit film STREET in STREET II DEATH FIGHT.  STREET I has found a far-reaching fan base in Europe, Asia, Russia and South America where MMA originated.  STREET I rivaled DEADPOOL in DVD sales in several countries and is the number 1 illegally pirated movie in Brazil. STREET II DEATH FIGHT will involve a plot line around (Transformer's) Mark Ryan, and Gigi's character, Jessy, filming  will take place in LA and Thailand and involve plot twists with the Chinese gang the Triads.
She is looking forward to her nomination for BEST ENSEMBLE CAST for The Kids From 62-F at the 2017 YEA Awards in Hollywood.  And having recently signed on with top agency BRS GAGE, 2017 promises to be a very exciting year ahead.
Gigi Cesare in WELAB MAGAZINE OCT 2017 issue pic.twitter.com/fVdItb35sJ

— WELAB Magazine (@WELABMagazine) October 10, 2017
indieactivity: Did you study acting?
Gigi: I always have been and always will be a huge Disney and Nickelodeon fan. Being drawn to their shows was as natural as acting out scenes and songs in front of the TV. It was a preschool teacher who first noticed I had the showbiz bug and told my dad. Then began a two year uphill climb (for my dad and me) to get my mom on board with the idea.
indieactivity: What acting technique do you use?
Gigi: Veteran Emmy-award winning Director Bradford May, who directed me in STREET, told me it's not about the lines, it's about how you feel and interpret the lines then how you and only you, say them. Make them your very own. Mitchell Gossett of CESD in LA taught me the importance of body movement when you're delivering your lines or monologue. Move, move, move, movement is so important. Chambers Stevens taught me the importance of being you in your comedy, it's the most important element and how important it is for youth actors to want to do this and not be pushed. I will have to get back to you on what I learn during the summer intensive.
indieactivity: What wrong impressions do actors hold about acting?
Gigi: My former classmates think I travel around, wear pretty dresses, go to film festivals, events, award shows, my movie premiers and that it's all fun, bright lights and what you see on TMZ. The reality is so much different from the perception. There are long weeks and months sometimes where nothing comes in, no auditions, then suddenly you can get 2 or 3 scripts in one week, have to be off-book fully (totally memorized) in the span of 24-48 hours. Then you either go to a taping service or actual in-person audition and give it your best. The odds are you won't ever hear back.
But, if you get a call-back, it's icing on the cake, if you actually book the job, well it's slim odds and celebration time. Most people don't know that after auditioning, you just never hear back unless you book the job. Sometimes it can take weeks to hear about a call-back. Sometimes your friend books the job. But people don't realize the pressures of the audition process, and that you need to have very good self-esteem to go in again and again, knowing you will be rejected far more than you're accepted. It's the actors who can build resilience who have staying power.
Funny thing is, the career you want and the one you get could be two completely different deals. You can't choose if film will be your thing, or tv or maybe you become the next spokesperson for a commercial! That's the fun. You just never know! Sets are long, elements and weather can be just crazy! I've shot in snow blizzards, outside, literally outside during a blizzard and in desert heat and high winds in nothing but summer clothes and it's 55 degrees. Try that when you get up at 4 am and it's almost night time. It's maybe not for the faint of heart.
indieactivity: Do you take courses to improve your craft?
Gigi: Everyone coaches. No matter how big you get, what top show or movie you book- my manager tells me it's even more important as you go further into your career. It's really important to get coached for the big auditions immediately after you receive a script or what we call "sides."
indieactivity: What acting books do you read?
Gigi: I'm just trying to keep up with school work honestly! My mom handles that. We love the Hollywood Parents Guide and every now and again she will do a career consultation with someone like Denise Simon in NYC. (before we had our amazing manager Kim Jago) and that helps. I was recently featured in ACT, DANCE, SING, MODEL Magazine and that's a great resource for youths as well as The Hollywood Mom Blog.
indieactivity: How do you keep fit as an actor?
Gigi: I don't go over lines with friends or family. I keep my acting life completely separate from any other part of my life. It's between me and my acting coach. I work hard when the work comes in then separate it out from my life just being a normal 11 year-old.
indieactivity: How do you prepare for a role?
Gigi: First you try as best you can to figure out what's going on in the scene. You don't usually get a ton of information or backstory on what's happening. Then you picture what the character would look, feel and act like in that time and place and circumstance. Then you start to break down your script into feelings, emotions and notes in the margin. Then you speed read the entire thing a few times. Curt Mega from Glee, and Gray Studios, taught me to look over lines every half hour. Don't try to digest the entire script in one sitting. It won't work.
indieactivity: How do you create a character from a script into a person?
Gigi: As I mentioned before, you try to put yourself into that time, space and situation. You think "how would they feel?" And "how would they react?" And then you bring those things into your delivery. I just turned 12, so I rely on my trusted coaches to help me draw those details out.
indieactivity: How do you stay fresh on a production set?
Gigi: That's tough for youth actors because we meet new friends and crew and want to play and have fun but it's a job. So staying focused is most important. There's times that my mom will make me stay in my trailer between takes and other times I get more freedom. Honestly I'm the only kid on set usually except for last year when I shot a sci-fi movie and there were four of us in the lead ensemble cast. That was the most fun ever! We also got separated a few times and there were more takes than any other movie I've been on.
indieactivity: Describe a memorable character you played?
Gigi: Jessie in STREET was my most memorable because getting to play opposite Beau Casper Smart was every girl's dream. Also I played Gaby Solis in a movie called ALMA. It wasn't ever released yet but I played a Mexican girl and I was surrounded by some of the best actors and director & producer in the Latin American Hollywood community. That was truly cool. I have family in Uruguay so it was close to my heart. I also did a movie with a young Director Dan Janis who is amazing. My set dad in that movie "The Lion" was remarkable and I really want to work with him again-over and over even! And Gerry Pallay was another director who was pretty cool to work with as he had me base my character on Ophelia in Hamlet, the Laurence Olivier version. So I had to study that black and white movie. That sure raised my game!
indieactivity: Explain one creative choice you took on set?
Gigi: I played a character who was a pretty serious girl. The whole film she was kinda a drag and serious. There didn't seem to be an arch to the character. My mom and me didn't love her. So instead of delivering her lines yelled-out in the angry, frustrated tone in the script, we added an element of cute sort-of sarcasm with a funny tone.
Although it was a slight change, it made such a difference that recently at the first screening at a film festival, the audience started to really laugh when my character delivered her line. That was hugely satisfying and my mom and me just smiled in relief.
indieactivity: What do you want most from a director?
Gigi: For them to be just like Bradford May, the nicest person and what they call "actor's director." He's so awesome. You want to work with him on everything. I shot Mordy with a rising Hollywood Director Mark Schoonmaker, he's being talked about as the next Spielberg, he's super nice and laid back.
indieactivity: What actors do you long to work with?
Gigi: Jerry Lewis and Miranda Sings are my comedic idols; of whom I do a hilarious spot-on impersonation.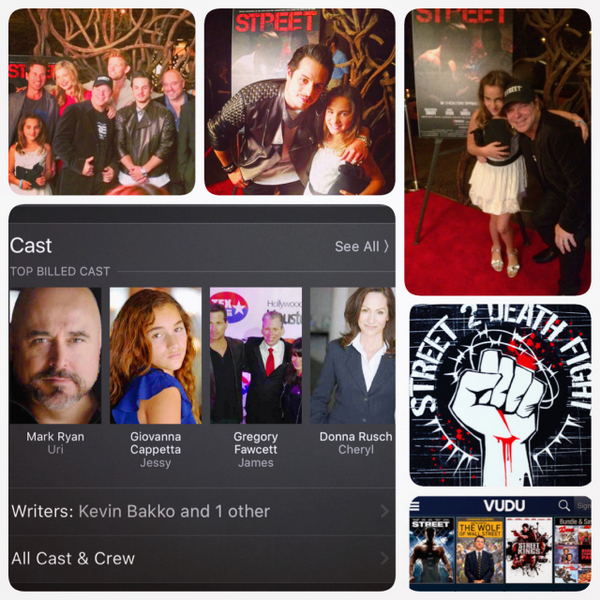 indieactivity: Why?
Gigi: You don't see movies like Jerry Lewis' comedic style anymore. No special effects, no big huge budget, just hilarious, goofy, great side-aching funny comedy. I would be sorry if I didn't add Cary Grant. He's a family fav and all his movies we record on the DVR so one by one I go through them. I'm still working through his entire film career but I would love to have been in a movie with him. And since he's not available, I will settle for George Clooney.
indieactivity: What advice would you give to actors?
Gigi: Just believe. Believe you can do it, believe anything can happen, believe in possibilities, they are endless but you must believe. And don't take anything too seriously because there will be lots of "you cant's" and "you wont's" but you have to shut out the noise and the no's and the negatives, because there will be many.
indieactivity: Briefly write about your career?
I started in this business at about age 6. I won my very first award last year: 'Best Supporting Actress' at the Young Entertainer Awards in Hollywood, my movie THE KIDS FROM 62-F went to Cannes and I've been featured in three magazines last year.
I've appeared in roughly 30 films and 5 television series. I've played various ethnicities and roles from serious dramatic film to comedy. I received several unbelievable feature film indie scripts this month that are just too good to be true, from directors like Jenn Shaw, Mariya Somova and others in the NYC artistic film community. The roles are different, challenging and even gritty. I've worked with Oscar winners like F. Murray Abraham to ground-breaking talents such as Darren Dean (Tangerine Producer).
This makes me a very lucky kid. And I'm in tune with it. Staying grounded is super important. It's not about being famous or those silly things that come with success. It's about getting bigger opportunities with each year, and by bigger I mean different characters, different genres. New chances that challenge me and the skills I'm developing are goals.
I'm the luckiest kid around, I work hard but I never forget how truly lucky, blessed, fortunate I am. It's so important to stay humble I think.
So Emma Watson the other day was on TV, talking about wearing sustainable eco friendly clothing, look at the work Angelina Jolie does for humanity and Ricky Gervais for animals… I'm excited to get to a point where I have a voice and platform to share my craft with the world but even more to also make a difference.
I have a YouTube Channel where I make small toy movies to raise funds for Syrian families. I built my career in indie film. I love indie film. I will never turn my back on indie film. It will always be something I will pursue, especially when it makes a statement, starts a conversation and makes even the smallest difference. Thank you for chatting with me. I'm really thankful.