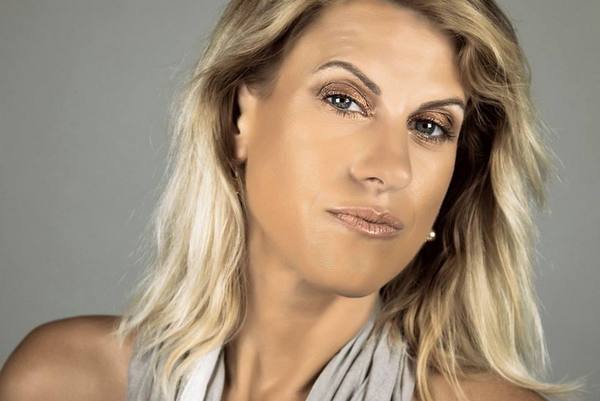 There has always a bit of an actor I me, although when I was very young I was painfully shy. In 7th grade, some friends of mine encouraged me to take Drama for an elective. It was my first time taking a stage for anything! I loved it but I was far from confident in those days, so I didn't pursue it. It wasn't until last spring, in April 2016, that acting would come into my life once more… at someone else's request. I had just gone hiking one morning and walked into a Starbuck's with customary sweaty, disheveled look.
I remember standing in line, waiting for my drink to be made and getting mad at my phone for not connecting to Wi-Fi fast enough! It was at this moment that Paul Kiener, a local filmmaker, approached me about auditioning for his western film, Cataract Gold. He asked me if I acted. I said, "Yes, every day." I ended up getting the lead role of Beth Clark and the rest is history!
https://t.co/cuT3hqAZaI pic.twitter.com/Ykzns1emxL

— Caroline De Graeve (@EniloracEve) December 6, 2016
indieactivity: Did you study what you do?
Caroline: As a filmmaker, I had absolutely no training, no experience, and no clue! I decided to make my own film shortly after we wrapped the shooting schedule for Cataract Gold. A few of the cowboys I had been on location with were working with a filmmaker up in Idyllwild named Stephen Savage. I sent him a message to which he responded to a couple days later. The next day Savage and I met and discussed what I would need to make a short film.
Within a couple weeks I had a script, I'd raised the funds, my locations were locked in and I was ready to shoot my first film, Real Smile. Real Smile premiered at the Idyllwild International Festival of Cinema (IIFC) in January of 2017 and was nominated for Best Student Short Film over 18 (they have an underage category as well). Then last month, I was contacted by Jeff Hudgens, organizer of the One-Reeler Short Film Competition in Los Angeles and I was invited to submit Real Smile. Real Smile won the award for Special Mention there!
indieactivity: What is your filmmaking process?
Caroline: I'm captivated by edgy visuals and character development. As a filmmaker, I love the use of foreground to lead into the scene. In Real Smile (see the picture below), you'll see a lot of shots start close up on a subject and pan out to the action. It's great for setting moods and tones for what is about to come. As a director or an actress, I like to spend time reflecting on how I would react, act, and look if I were placed in the character's shoes. I emphasize that as a director I encourage my cast to be as themselves as they can be.
indieactivity: Tell us about the work you have produced?
Caroline: I believe the word 'act' leads to people overacting. I like actors to play the characters as themselves… as if they were doing and saying everything naturally. I'm currently acting in and producing a short film, The Walnuts. The toughest thing I come across is trying to get the relationships between the characters to look natural. I find that spending time together off-screen is a really great way to facilitate comfort between yourself and the other players.
indieactivity: Do you take courses to improve your craft?
Caroline: No. I simply take the role off the page and integrate it as part of me. Of course, practice is always a must. The scenes get easier the more you run through them.
indieactivity: How do you combine acting, producing and writing?
Caroline: It depends on the project. If I'm writing, I can easily see how it plays out. Producing, acting, and directing are not self-reliant activities… at least not as much as writing is. It takes a lot of collaborating to get something that is flawlessly made!!
indieactivity: How did you get into the film business?
Caroline: Like I mentioned earlier, my start in film started with the role I was offered in Cataract Gold.
#cataractgold
First day of production! pic.twitter.com/Nn9QDPmJsV

— Caroline De Graeve (@EniloracEve) May 9, 2016
indieactivity: How do you turn an idea into a screenplay>
Caroline: It takes creativity, a good sense of dialogue and human behavior. It also takes good organizational skills, in terms of sequencing and timing of actions and words.
indieactivity: Explain your writing process?
Caroline: It simply starts with an idea, a memory, or something that comes at you in daily life that sparks an emotion.
indieactivity: What writing tip or idea can you give young writers?
Caroline: Just start! If you want to write something, just start!
indieactivity: Tell us about the directing work that you have done?
Caroline: I directed only one finished project so far, my short film Real Smile. I have a couple others that will be in the works in the next couple months.
indieactivity: What do you want to change about the film business?
Caroline: Haha! Can I change how difficult it is to obtain funding? And distribution…. Let's make that a little easier, too!
indieactivity: What do you want to be remembered for?
Caroline: Honestly, I want to be in film for more than the love of it. I want to be in film to have a voice. I am a passionate person and I have a wide variety of concerns and causes that I would like to be involved with and support in some way. To be in acting and filmmaking is an excellent avenue to achieve that.
indieactivity: What do you want from an actor during a production?
Caroline: Honesty and the ability to stay teachable.
indieactivity: How do you prefer to work with a producer on a production?
Caroline: I become a listener and an explorer. The exchanging of ideas and letting the other person complete and clarify any changes, or additions to a production is necessary. A change isn't always bad. If the idea or change doesn't work, fine… but don't squash it before it reveals itself.
indieactivity: What can a director do to get into the film industry?
Caroline: Make a film. Any film…. Follow what your soul finds interesting. Talk to people, be resourceful.
indieactivity: Who is your favorite director?
Caroline: Quentin Tarantino (Pulp Fiction, From Dusk Till Dawn), David Fincher (Fight Club, The Girl With the Dragon Tattoo)
indieactivity: Why?
Caroline: I love the storytelling gifts both these men have. I love the raw nature of the films they make.
indieactivity: What advice would you give director's?
Caroline: The more you do, the more you will grow.
indieactivity: Briefly write about you career?
Caroline: I've had several acting roles. I've played Beth Clark, one of the leads in Cataract Gold , I directed and acted in my short film, Real Smile. I am producing and acting in a current project, a short film called The Walnuts. I had the role of Piper Kissinger in Josh Mitchell's Hard Visit and I have another role in his next film, Dark Water.
Stephen Savage offered me the role of Carrie Hart in his television series Tucker's War. Another project I was offered a role in, The One Year Pact , directed by Gina Carey is currently is in post-production. This feature film is set to be released in February 2018 in Palm Springs, CA. I play Dolly and have been nominated for Best Supporting Actor Female and Rising Star awards at the Coachella Valley Indie Film Awards in September.