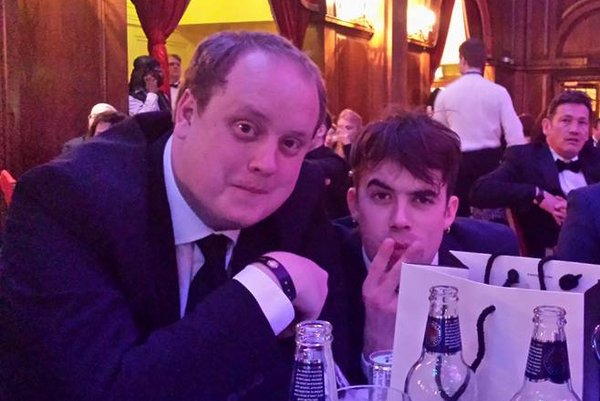 Adam Nelson was born in Portsmouth in the United Kingdom and fell in love with stories and storytelling from a very young age. Adam started out as a writer when he would watch films and then write short stories based on the films he had seen. It was very rare to find him without his nose in a book or not in front of the Television.
As Adam got older he became more and more ambitious and eventually wrote a horror novella at the age of 13 or 14 and sent it out for review at publishers. One publisher was kind enough to write back to him and give some advice, which Adam promptly ignored because he was hurt by the rejection. Adam carried on through school as a bit of an underachiever. He was perfectly capable of doing well but really wasn't interested in school at all.
Adam Nelson's English teacher Mrs. Morgan pushed him to write more as she really believed in what he was doing and without her Adam may not be where he is today. When he wasn't able to study Marine Biology due to his decidedly average GCSE grades Adam studied Film and Media instead. He followed that route for a few years, focusing on film theory as opposed to production.
That's us at the @theFilmAwards with @sidowen5 making a cameo appearance in the background! pic.twitter.com/36SeWXlRWz

— Apple Park Films (@AppleParkFilms) April 3, 2016
After leaving university Adam started teaching film and found that this really re-kindled his passion for storytelling. He found teaching film incredibly frustrating and writing helped him express himself during this time. After trying to pitch his ideas and getting decided that he was fed up of waiting for someone else's permission to make films, Adam, saved a small bundle of money and wrote, directed and produced his first feature film (Little Pieces).
Little Pieces met with a fair amount of success including festival tours and being nominated for a National Film Award in the best category alongside proper films like The Danish Girl, Macbeth (with Fassbender one) and 45 Years. That nomination lead to Adam securing funding from a local business owner to produce Emotional Motor Unit and everything has just gone skyward from there.
The success of Emotional Motor Unit has seen both critically and on the festival has lead to my being hired to write a feature screenplay for Lost Seoul the new film by award winning director Jane Gull and have a second film of his own put into development through a collaboration with Vault Films.
indieactivity: Why did you get into filmmaking and screenwriting?
Adam: I've always loved writing and storytelling. I've always been fairly introverted and so fictional are far more interesting and engaging for me than the real world. I find that writing offers me a kind of therapy; it allows me a way to express myself that I can struggle with in other areas. I moved into filmmaking because I'm very visual person, I find comfort in expressing myself visually – I like to draw, take photographs etc as well as make films.
indieactivity: How does an indie filmmaker distribute his/her film?
Adam: We chose Amazon Video Direct in the US and UK. It places your films on Amazon Prime so people can view your films through their account. We've had more success from this than any other method over the period of time we've been using it. I would also advise working with a PR team. Marketing your film is a full time job and it's good to have someone who can take some of that burden from you.
indieactivity: When should an indie filmmaker need to start planning for distribution?
Adam: If you're looking for investment then you absolutely need to think about it from the start. People who are going to invest in your film want to know their money isn't going to waste and so they want to know how your film is going to get to its customer base. It's also important to consider distribution when working with PR and festivals.
I'm feeling very done with festivals after Emotional Motor Unit, unless it's one of the big ones. We had a great run, but we also had fantastic reviews and if the film had been available to see online when those reviews came out we may have reached an even bigger audience than we have. Festivals are great, but there are so many of them now that their value is decreasing unless they're one of the big names people recognize. It's the same with awards, everyone is an award winning filmmaker these days it seems, and if we're all award winners then it devalues winning an award.
indieactivity: How do I get my film in theatres with an indie budget?
Adam: Beg, plead, and meet with your local indie film societies to get it screened in smaller theatres. For bigger there are services like Our Screen, which allow audiences to request films to be show in cinemas. Of course that means you have to build that audience before you can get your film screened.
indieactivity: How can filmmakers finance their projects?
Adam: Networking and meeting individuals who have the means to finance you or connect you with people who can. I think that a lot of young filmmakers forget that film is a business and your film is a product, and when approaching financiers you need to take that into account. You need to learn to speak the language of finance and business because at the end of the day that's the language they're speaking. Your vision is probably amazing and sounds great to other creatives, but you need to be able to sell it as a viable product to someone.
indieactivity: What films have you written?
Adam: They've been produced and are available to see. The House Near Apple Park is free on Youtube and Little Pieces is available on Amazon Prime in the UK and US. I'm currently writing Lost Seoul for SHY films in the UK, collaborating with an amazing team including director Jane Gull. My second feature The Farm is in development at Vault Films and I wrote the screenplay on spec. I'm also developing another short film project called Toilet Humor. It's a fun little horror project that I'm making for fun as opposed to make something powerful.
indieactivity: What are the films that you have made?
Adam: Emotional Motor Unit is available on Amazon Prime in the UK and US. I haven't made a lot of films. I find filmmaking really exhausting, not due to a lack of passion but because I throw everything I have into the project. I see short filmmakers who push out five or so films a year and I stand in awe of them. I have no idea how they do it.
indieactivity: Talk to us about your concept on collaboration?
Adam: Collaboration is really important to me as a filmmaker. I want to hire talented people who can help me get my vision for the film onto the screen. I'm not interested in controlling them, peering over their shoulders and I'm a firm believer that I don't always have the best ideas. That said, whilst collaboration is utterly important, it's more important that everyone is making the same film. You all have to be on the same page and you can't have one person trying to stamp their voice over your project.
indieactivity: How do you find the process of filmmaking as an indie filmmaker?
Adam: As I mentioned about I find it extremely exhausting because I throw everything I have into the project I'm working on. I have a lot of admiration for filmmakers who can put together five or so short films a year, but that's just not me and how I work. I would rather work on one or two projects a year and throw everything I have into them than work on lots of projects. I would be worried that I couldn't give them everything I have.
indieactivity: Describe your recent work, or film?
Adam: Apple Park Films' first feature film Little Pieces saw a fair amount of success despite its low budget and small scale. After pitching a second feature film idea to an array of production companies I decided that I wanted to make a short film that built on the ambitions I had for Little Pieces. I partnered with some of the cast/crew I had worked with on Little Pieces and we did an open call for short film scripts.
We received an unbelievable amount of log lines and ideas, just under a thousand by my estimate, and whittled that down to twenty scripts we wanted to read. I selected Emotional Motor Unit from that pool of scripts, met with the writer Xènia Puiggrós and we worked together on developing the script. The script was in pretty good shape when I first read it, but we had to make some alterations based on the estimated budget we would be working with. We hired the essential crew and I got to work with some amazing new people who taught me a lot about the filmmaking process.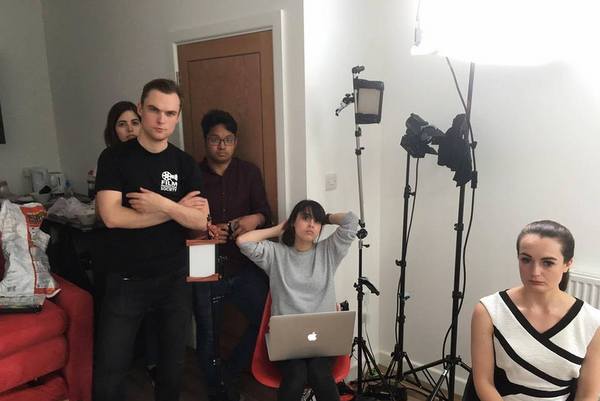 The shoot was quite grueling, we had to shoot everything in four days and two of those were spent in a cramped flat that go very hot, very quickly. We adjusted the schedule everyday, but the team pulled together and we got the film in the can on time. During post-production I handed the editing process off to our editor Cleo Wilson, who I trusted to put the film together without the need for my constant supervision. I was right to trust her and the first edit of the cut was close to how I wanted it. After a few tweaks I laid the sound tracks and score in the right places and sent the film off to be mixed. After that we hit the festival circuit and put together some media reviews. We picked up marketing through Film Sprites, the PR team we work with, again when we released the film on Amazon.
indieactivity: What are your future goals?
Adam: I take each project as it comes and right now I'm employed on two projects. I really want Lost Seoul to be a success and so I'm working hard with the team to create the best film possible. It's a truly fantastic true story about perseverance in the face of adversity. I also have the horror film The Farm in development with Vault Films and that's set to be my second directed feature film.
indieactivity: Tell us about what you think indie filmmaker need in today's world of filmmaking?
Adam: Grit and perseverance. If you're not prepared to hear 'no' a lot then you don't have what it takes. It's like any kind of art, you need to be prepared to make mistakes and keep learning. You have to be happy to make something that may well be crap, because it's only through being crap that you can ever become good.
indieactivity: Briefly write about your career ?
Adam: I don't really know what to say here. I don't really feel I have much of a career to talk about and I don't have websites and blogs to promote myself as I feel the work should speak for itself.