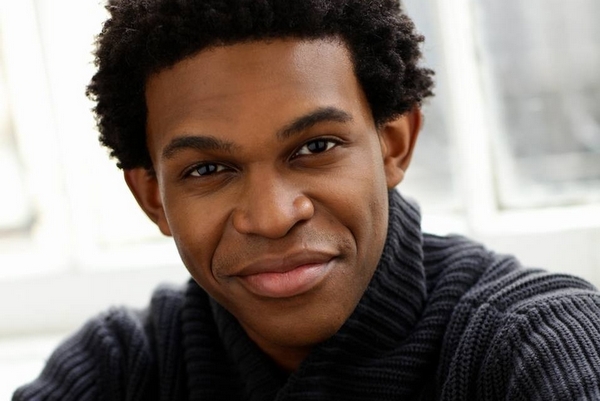 My plan in high school was to go into the Navy, but I quickly realized that the military wasn't for me. When I was a junior in High School, I had to choose a class instead of ROTC, which I had been in for 2 years already and had no idea what class to take. My mom said, "You like to be loud and obnoxious? Try acting." So I gave it a shot, fell in love with it and moved to New York right after graduation to pursue. Best decision I ever made. Thanks mama.
indieactivity: Did you study acting?
Camrus: I was still in high school asking myself what I really wanted to do since acting seemed like such an unrealistic path. "Me? Making a living as an actor? Really? That's not a real thing." So I was thinking about maybe going to college to be a psychologist? I like brains? Seeing how people tick is something that I've always seemed to be good at.
Then my high school acting class, or "Advanced Drama" …that's right, we were ADVANCED. The ELITES of high school drama club! Haha. We went to…it was either the Georgia Theater Conference or the Thespian Conference, but the purpose of both was to have high schoolers have an acting conference and learn and perform and go in for colleges. At one of these events, I auditioned for 17 colleges and got 14 callbacks. That was the moment that I told myself that I could actually do this.
Meet @CamrusJ, the not so secret treasure behind @hulu's 'There's…Johnny!' https://t.co/SBQ2kgC9bS pic.twitter.com/QVZgRvGBgC

— Vibe Magazine (@VibeMagazine) November 21, 2017
indieactivity: What acting technique do you use?
Camrus: I don't have a technique actually. Although I got those 14 callbacks because of my strong drama program – shoutout to Camden County High School – I moved to New York instead of going to the school that I planned to go to, the Savannah College of Arts & Design. My acting "technique" was very much me going into auditions and learning what worked and what didn't.
Eventually, after three plus years of that, I got an acting coach but the name of Anthony Abeson and he doesn't believe in techniques so much either – which is one reason I liked him so much. He moreso teaches scene study, thinking the thoughts of the character, the moment before the scene and fleshing out the world of the story and script.
indieactivity: What wrong impressions do actors hold about acting?
Camrus: Wrong impressions? Ooo. That's a tough one. I guess one thing is that this industry isn't nearly as hard as a lot of actors think that it is, but it's also not as easy either…that might not even make any sense. But the main thing that I've learned is that you have to your own number one fan, at least at first, and also your worst critic. No one is going to be there for you the way that you have to be there for yourself as an actor, and if you don't have full confidence at first, that's fine, but you have to constantly work toward being confident in yourself and believing in yourself and your abilities. If you're getting in your own way in your mind, you'll get in your own way in the scene as well.
Ooo! Another thing, if you audition 50 times and don't book anything, that's not only normal, but that's okay. I've helped cast a few things now in my career as well and sometimes, the best actor doesn't even get the part. The actor who is the closest to what we, behind the table, see the character as gets the part sometimes. But that doesn't mean that the best actor didn't make a great impression in our minds and that we don't plan to definitely be seeing them again. Casting Directors want you to book the part, no matter what. Okay, I'm done. That was a long answer.
indieactivity: Do you take courses to improve your craft?
Camrus: I've had an acting coach for a while but I haven't been in class for months. I've been busy doing a lot of writing, shooting, etc so I felt that I wouldn't be very focused in class, or available to be in it for that matter. I do go to my coach for private coaching from time to time though. Anthony Abeson in NYC yall! He's the man. I've learned so many things from that man.
I'll likely move on to another coach soon because I've absorbed what I needed to absorb from Abeson, but I'm so glad that I did. He made me a better actor the week that I started his class.
indieactivity: What acting books do you read?
Camrus: Not enough. I read ACTING 2.0…by Anthony Abeson. Haha! Umm…let's see….THE ACTOR'S ART AND CRAFT by William Esper, it's really good. It made me appreciate Meisner in all honesty. Again, not enough. I read books on writing, love, and relationships mostly. All fueling my acting and singing mind. I make a lot of love songs. Makes sense, right?
indieactivity: How do you keep fit as an actor?
Camrus: Mentally, by watching movies and TV shows that fit my vibe as an actor, along with interviews and the IMDB Series NO SMALL PARTS. I love it so much! There really are no small parts, each are– okay let me not get off track here. Ahem. Screenwriting also keeps my mind sharp because my mind is constantly in the world of storytelling.
Physically? Man, I wish I could tell ya. I just have a very high metabolism. My dinner tonight was Airheads and Doughnuts. I wish I was making that up. I'm not proud of it.
indieactivity: How do you prepare for a role, when you get it?
Camrus: Well first…I call my mom and tell her. Haha. But I do this rule where I read the script once through for the story, then again for things I may have overlooked the first time, then I'll read it a third time out loud, dry. Then I start working. Breaking the scene down, defining my characters actions, learning the lines. I learn lines fairly quickly, so I just rehearse it a bit. But not so often to the point where certain lines sound robotic. That's an issue.
indieactivity: How do you create a character from a script into a person?
Camrus: I improvise the character's past to influence their actions and dialogue in the present. It's just me imagining scenes from the past and acting them out, usually with myself, sometimes with an unlucky friend or family member nearby.
indieactivity: How do you stay fresh on a production set?
Camrus: One thing that my friends loved about my work ethic in high school was that I would act a fool off stage and then walk onto the stage completely in character, flip of a switch. Obviously with a lot of characters that's not so easy, but I like to have a good time on set. It's where I'm happiest, and I like everyone around to feel comfortable. So I tend to make jokes and talk to everyone around, then get into my zone and think the thoughts of the character when the cameras start rolling.
indieactivity: Describe a memorable character you played?
Camrus: Rasheed Miller in "There's Johnny"! We premiered at the Tribeca Film Festival this year and we air on Hulu November 16th. Rasheed is my guy. I mean, he was fun to play in the audition. You can only imagine how much fun I had with him on set.
indieactivity: Explain one creative choice you took on set?
Camrus: On set of Netflix's THE OA, I played this character that was high in the last episode of the first season. I had a couple lines about how my friend should be a wrestler because this girl in the school was dating a wrestler. The other actor, in the scene, replies "Are you saying I'm short?" and I was supposed to completely ignore his line because outside the cafeteria I see the shooter coming. But instead, I replied "…Yea." and laughed, then as I saw the shooter coming, I slowly dissolved from laughter to deciphering the situation, to a certain level of shock and confusion, until I finally broke out of my head and tackled the other character to the ground.
The awesome director, Zal Batmanlaj, said to cut the laugh the next few takes and play it straight…but when the show aired, the take that he kept was the take of me laughing. A small adjustment, a small choice, but one that we were both glad that I made!
indieactivity: What do you want most from a director?
Camrus: Great communication and a calm but fun presence and environment. Making everyone feel wanted, needed, and awesome is always good. Like we're all collaborating and working together to make something beautiful. As an actor, I love when the Director trusts in me enough to let me do my thing, and then tweaks, rather than saying "This is what you're doing."
It's always a great feeling to have a director go "You do what you do, I'll come in and give suggestions, you'll get exactly what you want, I'll get exactly what I want." That way, everyone walks away from a scene happy.
indieactivity: What actors do you long to work with?
Camrus: What actor don't I long to work with would make for a much shorter answer my friend. I want to/look forward to working with Christoph Waltz, Viola Davis, Meryl Streep, Denzel, Morgan Freeman, Cynthia Erivo, Dohmnall Gleeson, Daniel Kaluyya, Donald Glover, Lakeith Stanfield, Jim Carrey, Lin Manuel Miranda, Dicaprio, Tom Hanks, Will Smith, Samuel L, Amy Adams, Brie Larson, Alicia Vikander, Oscar Isaac, please stop me because I will double this list….Scarlett Johansson, Johnny Depp, Jennifer Aniston, Joaquin Phoenix, Betty White, Chiwetel Ejiofor, Patrick Stewart….okay, I'll stop. Sorry….Rosario Dawson.
How did I forget about Bryan Cranston? Whoopi Goldberg! Oh boy.
indieactivity: Why?
Camrus: …Yea I'm gonna have to pass on this one. Hahaha!
indieactivity: What advice would you give to actors?
Camrus: BELIEVE IN YOURSELF. That's the first step, the second step is actually getting up and chasing your dreams. People say that all of the time, but it really is a chase. It is a sweaty, breath-stealing, long long long sprint but it's totally worth it and it's completely possible to catch it. But the more breaks that you take (and you should take some when you need to) and the more you slow down into a jog or a power walk the further and more impossible that it's going to feel.
It's up to you to show everyone that you're worth believing in, and once you have that confidence (not cockiness, confidence) then the rest of us will follow suit. I faked my confidence for years until I actually found it. Fake it 'til you make it…what the? Where is this advice going? The point it, put your all into it and the world will return the favor, ya dig?
indieactivity: Briefly write about your career?
Camrus: I play Rasheed Miller in Hulu's THERE'S JOHNNY premiering November 16th, I played a supporting role in a Lifetime movie entitled HUNTER'S COVE renamed STALKER'S PREY by Lifetime, my first ever TV part was in MARVEL'S LUKE CAGE and they recently brought me back for an episode in season 2 after my having shot 4 Television Co-Star roles, a series regular in a Regional Emmy Winning PBS Affiliate Series, an indie film and a copious amount of short films.
More than anything am I excited to share There's Johnny with everyone. It was an amazing experience to work with Paul Reiser, Tony Danza, David Steven Simon, David Gordan Green and the entire cast and crew. I loved my character, I love the story, and I have so much love for everyone on that set that I worked with and near. Check it out! And thank you Hulu!