Trisha Gum has been working professionally in Animation for 10 years. It's a medium Trisha loves, but a medium she hadn't originally set out to be a part of. It all started when Trisha Gum graduated college. With a mountain of student loan debt, she couldn't afford to pay actors and location fees, so Trisha improvised and started making stop-motion in her basement. Trisha had no professional training, but it was a way to make her stories come to life on a budget. Ten years later Trisha Gum has worked on shows such as, ROBOT CHICKEN, Warner Bros. MAD, and Adult Swim's FRANKENHOLE. In 2015 Trisha Gum won an Emmy for her work on Amazon's TUMBLE LEAF. Trisha Gum is currently the Head of Story on Warner Bros.' LEGO BATMAN movie.
Though animation remains the majority of Trisha's professional experience, in 2010 she shifted into live-action writing and directing with her personal projects. In 2011 I was selected for AFI's Directing Workshop for Women. The experience inspired me to keep creating, and since then Trisha  has directed many shorts. Her film, HOW TO BE A FEMALE DIRECTOR, gained Trisha recognition from Independence's Magazine as, "2012's Top Ten Filmmakers to look for.
Trisha Gum's background in animation and her love for live-action has given Trisha a unique tone and an eclectic visual sense of storytelling.
How to be a FEMALE Director from Trisha Gum on Vimeo.
How would you describe your work as a director?
Eclectic comedy/dramas with a unique visual style.
How did you get into directing?
I've wanted to direct ever since I was an undergrad at UC Santa Cruz. I've always had a passion for storytelling and photography and I knew I had strong leadership skills. Directing and movie making just seemed like the natural progression of where I would go with my life as an artist.
How do you choose a project to direct?
I have to feel passionate about the material. If I connect to the story and I feel like I have a unique vision for it, I know I'm the director that will make the film resonate with the audience.
What uniqueness can female director bring to film, TV or cinema?
Our voice and vision! Women are still underrepresented in the industry, because of this films that represent a woman's perspective are in the minority. Having more female directors will create more variety in the kinds of stories that are put on screen. In recent years, TV has done a much better job at representing female voices and I only hope that feature film will move in that direction more rapidly.
Directors Reel 041313 from Trisha Gum on Vimeo.
Do you take courses to increase your craft?
YES! I'm constantly striving to grow and learn! There's never a time I'm not enrolled in a writing class, acting class, improv, etc. The more you can educate yourself, the better you will be at your craft. UCLA writing program is a great one that I frequent most.
What books do you read?
I love Nick Hornby (About a Boy, High Fidelity) and David Sedaris(Dress Your Family in Corduroy and Denim.. pretty much  anything by him)
Why will you choose an actor, writer or producer. What do you look for?
Collaboration and authenticity. Those qualities are important to me no matter what member of my team you are.
When you get a project, what do you put in place to do a good job?
A strong crew. My team is everything. A director is only as good as the crew they surround themselves with. The team needs to be able to work well together and respect each other, it's only then do you get the best material.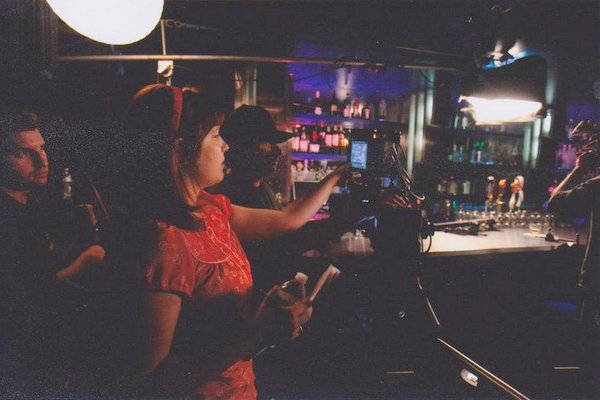 Briefly explain your latest work?
I'm currently in pre-production on my first feature film, PICKWICK PARK. PICKWICK PARK is a modern day musical about a relentless Austin based musician, Alana. After being kicked out of her band and home, Alana resorts to living in her tour van inside a run down RV park, while she puts her life and career back together.
This film is loosely based on a group of independent musicians I grew up with in San-Francisco. It's a heartwarming story about friendship and what it's like to be an independent musician struggling to have your voice heard. I'm passionate about this film being my feature directorial debut; not only is this story personal to me, but it also encompasses all the elements that articulate who I am as a creator.  I find so many parallels between filmmakers and musicians struggling to find their creative voices. Having experienced these themes in my own work, I know I can make a heartfelt story that captures the spirit of the music scene I grew up admiring.
Explain key challenges your last film?
Getting money/investors is always a big hurdle to overcome. Finding strong creative producing partners has enabled me to stay focused on the creative while they spend time raising the money to move us into production.
What thing helps you during production?
Being able to problem solve with your team is the only way to be able to get around the problems that arise during production. Without a strong core group of problem solvers, it's almost impossible to navigate production.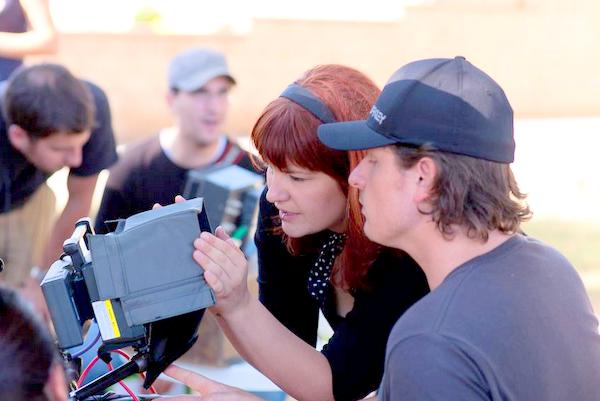 How do you advise female directors to find projects?
I would advise aspiring Directors to write and create their own content. Creating your own content is the best way to show what your unique voice is as a director. If you don't write, then find a writer you admire and pair up with them. The more you collaborate with people, the more you will open yourself up to new opportunities and ways to improve your craft.
How can filmmakers finance projects?
Fundraise any way you can. Get creative and be relentless!  I once put on an art show to raise money to go into principle photography on a film.  I had artist friends donated work so I could sell them and all the profits from the art went into the film. I managed to raise over half the budget that way! Trust me, the more creative you are with fundraising, the more likely people are to donate or invest.
What do you want from an actor in production?
Collaboration and vulnerability. An actor and director should have a mutual trust. When actors feel like they trust their directors, they open up, and that vulnerability creates more authentic performances. Together you collaborate to find the emotional core of the character the actor is portraying.
How do you prefer to work with a producer during a production?
I like to have a close relationship with my producer. Producers are the people who you lean on the most to help navigate the challenges of production.

What do you think a female director can do to get into the film industry?
I'll be honest, it's challenging. Even though the industry is finally starting to make a change in a positive direction, female directors often have to work twice as hard as their male counterparts to be considered for directing roles.  BUT, don't let that discourage you, Let that drive you!  I PROMISE you will find a community of people you want to make films with for your entire career! Work hard and create your own content and lean on other women to be your mentors and your allies.
Who is your favorite director?
There are so many directors I respect and admire! My "short" list: Wes Anderson, Alexander Payne, Robert Zemeckis and Steven Spielberg.
Why?
All of these directors have a unique vision and have been able to keep creating eclectic stories through the years. I admire the way they have all worked hard to continue to get better at their craft.
What advice would you give female directors around the world
Make stories about people/characters you want to see! We will only change the industry standards if we make films that are authentic and that are the kind of stories we want to see in the theaters.
Briefly write about your career
Every experience I have had in my professional career has been an opportunity to become a better writer or director or storyteller in my personal work. Recently, working as the Head of Story on the Lego Batman movie has challenged me to think about story in a whole new way. Because of this movie, I write faster. I'm not as cautious when trying new ideas, I dive into testing out ideas to see if they work, and I've gotten better at problem solving how to creatively fix things. I've been pushed to develop my voice as a storyteller and have been challenged to translate that onto the screen.  Working on a big budget feature for the past three years has been an invaluable experience that I'm incredibly grateful for. This experience has prepared me to take the next bold step in my career, directing my first full-length feature.
Use every opportunity you are given as a chance to challenge yourself, to grow and to prepare yourself to be the kind of director you want to be!
INTERVIEWS
more interviews