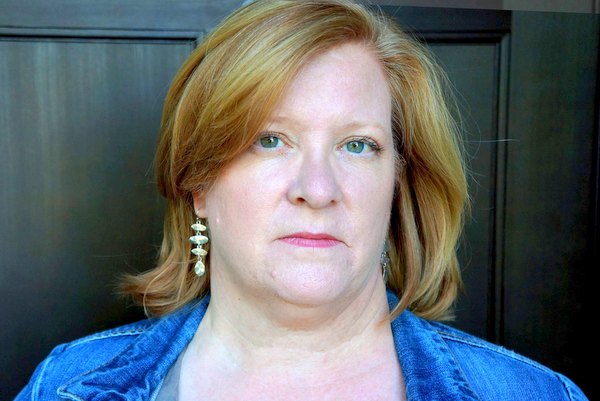 Tira Palmquist wrote her first play in the 5th grade. She says it was probably awful, though she doesn't remember much about it. At the time, though, Tira really thought it was her life's goal to be on the stage.
Tira Palmquist continued to write and act through high school and college, though by that time, Tira focused almost entirely on poetry. Her senior year at the University of Iowa solidified that idea, and Tira Palmquist was encouraged to get her MFA in poetry, even though she was getting her Bachelor of Arts (B.A.), Theater with an emphasis in acting. After grad school, and after having her first baby, Tira Palmquist started developing work with a multidisciplinary theater company, and she found a great satisfaction in writing for the stage. An itch had been scratched.
Photos: Opening night of #TwoDegrees. https://t.co/4hugn3jErk #DCPAToday @MontourLarson @TiraPalmquist pic.twitter.com/oP7p2C8N0c

— DenverCenter (@DenverCenter) February 11, 2017
How did you describe your writing?
I am trying to merge poetry and theater. I'd like to think I'm writing a kind of magical realism, but it's probably more accurate to say that I'm writing a realism into which, sometimes, magic intrudes.
How did you get into writing?
As I look back on my life, I've always been interested in writing and books. I have a vivid memory of being in the 1st grade and going to the library by myself. (We lived in a tiny, tiny town, and this was back in the 60s, when children could be more… free range.) I had checked out so many books that I couldn't carry them, and had to have somebody come get me. That was probably the beginning of the madness.
Did you study writing?
As an undergraduate, I studied poetry in the undergraduate workshop at the University of Iowa with Jorie Graham and James Galvin. Then, I received my MFA in poetry from the University of California, Irvine, studying with James McMichael.
How would you describe the difference between a screenplay and a play?
Viewed superficially, one could say that screenplays can be bigger than plays. Screenplays can have bigger casts, bigger locations, more scene. But the real (and more important) difference between screenplays and plays is that screenplays tend to be more visual, and plays tend to be more driven by dialogue. Of course, any difference one could name, one could probably find a play that disproves that notion. So, maybe the real and only difference is that screenplays are filmed, and plays take place, in real time, in front of a live audience.
How do you turn an idea into a screenplay?
The distance between an idea and a play is measured in how this subject lands in the lives of people. In other words, an idea that remains academic or theoretical won't necessary (or probably won't) result in a good play. You have to figure out the dramatic engine of the play – how this idea impacts people, how it makes their lives difficult, glorious, fractured, complicated.
What do you do to get an idea that you can turn into a play?
I don't know that I do anything (active) to get ideas. Ideas present themselves to me, get inside my brain and ping around in there for a while. It helps to read a lot, go places, see people. It's hard to get inspired if one doesn't actively work to get educated about a lot of different things.
Briefly describe a few wrong impressions writers indulge in
I think the most dangerous or harmful thing that writers do is to compare oneself to others. It's just crazy. It's also maddeningly easy to do. Another wrong impression is that you have to write when you're inspired. Screw that. You write when you have time to write. The inspiration will follow. And that's another thing: time. You don't necessarily need a huge chunk of time (2 hours, 5 hours, 10 hours) to get some significant work done. Looking at the clock and saying, "Oh, I don't have time for X,Y,Z" is a way of sabotaging yourself. Also, get the hell off the internet. And go for a walk.
Do you often take courses in writing to increase your craft
I don't often take courses but I have signed up for workshops to help me get through a first draft. For several years, I took Lee Wochner's Words that Speak playwriting workshop, and that was a fantastic way to make sure I kept writing (7 pages per week, minimum) and to get great feedback from a great group of writers. Lee is an excellent workshop facilitator, and always asks helpfully specific questions.
What books do you read
This is a nearly impossible question to answer. I try to read a lot. Books on craft, books on history, plays, sci fi, literary fiction, short stories, plays, current events, non-fiction… Lately, I've been reading a lot of sci fi – primarily by women. The most recent books I've read include:
– The Shock Doctrine, by Naomi Klein
– Chanur's Legacy, by C.J. Cherryh (and about a dozen other Cherryh books, including Downbelow Station & Cyteen)
– Trigger Warnings, by Neil Gaiman
– The Water Knife, by Paolo Bacigalupi
– Lagoon, by Nnedi Okorafor
– Lightless, by C.A. Higgins
What do you do to keep in shape as a writer
Write as much as possible. Set difficult goals.
When you are offered a play to write what is your routine
For the past couple of years, when I get an idea of a play, I let it sit and percolate for a long, long time before I begin to write. I used to dive it the minute I got an idea, and then write myself into corners because I had not figured out some of the most basic parameters of the play. Now, I spend a long time on developing the foundation of the play, in my head, before I begin to write. Once I've figured out the bones of the play, the basic outline, then I start to write. As for routine? I'm not sure if I have one. I just try to write when I have a chunk of time (i.e., more than 15 minutes).
How do you develop a character in a script to be honest and believable
Act it in my head. And read it aloud. And get really good actors to read early drafts.
What is the most memorable character you have created
In my play THE FREQUENCY OF STARS AND OTHER MATTER, I included the Danish Astronomer Tycho Brahe. I love that crazy son of a bitch…
Ten minutes to opening of #TwoDegrees with Playwright @TiraPalmquist, daughter Maja and director Christy @MontourLarson #DCPAToday pic.twitter.com/Rk6c9VZ11q

— DenverCenter (@DenverCenter) February 11, 2017
What do you want from a director during production
Mostly? I want the director to read carefully and pay attention to everything. Stage directions, punctuation, pacing, beats. Because I think carefully to all that stuff, and it drives me nuts when a director glosses over that, like it doesn't matter.
How do you prefer to work with a director during production
I like to think that, in the best of all possible, worlds, we're partners. Last night, I was at a rehearsal for a workshop that I'm doing, and the director happens to be my husband. We're sitting next to each other most of the time, and he'll finish a moment, and he'll turn to me and say, "Yeah?" And I'll say, "Yeah." We're a good team.
Do you get offers from Hollywood
Not yet.
What do you think a writer can do to get into the industry.
Persistence.
Who is your favorite writer?
Oh, Lord.
For sheer audacity, Neil Stephenson.
For depth and complexity of her world building, C.J. Cherryh
For humor and wildness, Iain M. Banks
For darkness and sometime depravity, Richard K. Morgan
For breaking my heart, Shakespeare
For depth and complexity of language, Virginia Woolf
For clarity and humor, David Rakoff
For precision and vision, Diane Ackerman
And so many others.
What advice would you give to amateur writers around the world.
Tell your stories. They're worthwhile.
Briefly write about my career.
TIRA PALMQUIST's plays include Two Degrees (Denver Center), Ten Mile Lake (Serenbe Playhouse), Age of Bees (MadLab Theater, Tesseract), And Then They Fell, and others. Ten Mile Lake was a finalist for the 2015 Primus Prize. Two Degrees has been featured in numerous festivals, including the 11th Annual Denver Center New Play Summit, the New American Voices festival in the UK, the Caltech 2014 Mach 33 Festival and the 2014 Great Plains Theater Conference, and will have its World Premiere in the Denver Center's 2016/17 Season. And Then They Fell was workshopped by Brimmer Street (Los Angeles, 2015) and the UMass New Play Lab  (2014), and will have its premiere at Brimmer Street in Los Angeles in September 2016. Ten Mile Lake, which premiered in 2014 at Serenbe Playhouse just outside of Atlanta, GA, was developed and workshopped in 2012 at the Seven Devils Playwrights Conference. Age of Bees premiered at MadLab Theater in 2012 (and was named Best Original Work by the Other Papers "Best of 2012" list), and was subsequently produced in 2015 at the Tesseract Theater in St. Louis. Age of Bees is now available through Original Works Publishing. Her work has been developed by Seven Devils, Inkwell, 9Thirty Theater, The Road Theater, EST-LA and the Theatricum Botanicum Seedlings program. Tira teaches creative writing at the Orange County School of the Arts. She is a member of the Playwrights Union, the EST-LA's Playwrights Unit, the Antaeus Theater's Playwrights Lab and is a member of the Dramatists Guild.
Website | Facebook | Twitter | LinkedIn | Indie Theatre Now