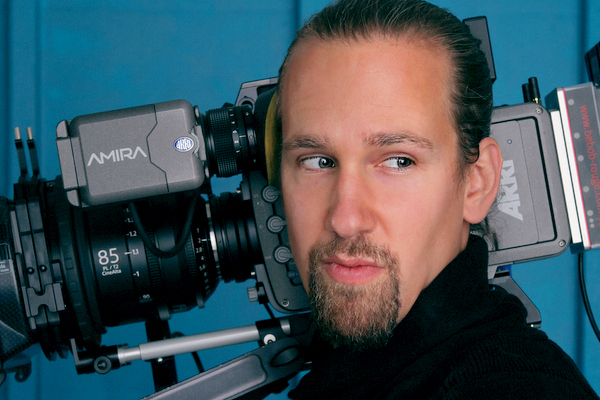 Tom Keller was born 1985 in Switzerland in the capital city of Berne, the first son of Gabriela (née Furgler), and Beat Keller. From an early age, his mother gave him a passion for the arts. After he finished high school in 2004, Keller served in the Swiss Army where he was promoted to first lieutenant. In 2008 he attended film school at Zurich University of the Arts. After graduation, he was the 2nd unit DP of the feature film "Achtung fertig WK!". He is currently working as Director of Photography on features, commercials and documentaries.
indieactivity: Did you study cinematography?
Tom: Ten years ago, I didn't know anybody from the film industry. Studying film was my only chance to become a cinematographer back then. I could never have afforded to shoot short films and learn the skills on how to work with the real cameras and lighting. If it wasn't for the ZHdK (Zurich University of the Arts), I wouldn't have these skills.
All the students are very different. Sometimes you just have a passion about film in common. As a cinematography student, you work with a lot of directors. Each one has their own method of working with you. At the end of the day, you not only learn a lot about filmmaking, but learn a lot about yourself as well.
I think that today, it's a lot easier to get in touch with other filmmakers, get your hands on professional camera equipment, and start a career without going to film school.
indieactivity: Tell us about your most recent project?
Tom: Right now, I'm working on the TV thriller series "Capelli Code" with Klaus Maria Brandauer ("James Bond: Never Say Never Again", "Out of Africa", …) in the leading role. We are doing cinema for TV, and as DP, I'm responsible for the look of the first season. That means 13 Episodes each, 45 min long, with a lot of different locations. We've shot in studios in Berlin, Germany as well as on location in Wallis, Switzerland.
Most of the time it's a lot of hard work, but I get so much freedom and I can contribute to this project like never before. It's a great opportunity to work with the insanely talented showrunner and director, Alex Martin, and it's a dream come true to work on that show with him.
I'm shooting the series with the ARRI Amira, the ARRI Alexa mini on a Mövi M15 and the Sony CineAlta SCL-PK6 Primes. For the aerial photography, we started with a Red Dragon on a Drone, but since the beginning of this year I've been using the Inspire2 to shoot it myself. The picture quality of this little drone is just incredible.
indieactivity: How do you prepare for work on a new project?
Tom: It's hard to answer that because there isn't just one way to prepare for a new project. It depends on whether it's fiction, a documentary, or a commercial film. Moreover, it's most important whom I'm working with.
indieactivity: What do you always do in pre-production?
Tom: I always read the screenplay really very carefully and try to understand it in every detail. Simultaneously, I scribble little storyboards on the script pages, which later help me discuss my ideas with the director. It is very important that you, the cinematographer understand what each scene is actually about. Without that, you can still make gorgeous lighting and extraordinary camera movements, but it will not tell the story the right way.
indieactivity: Who is your favourite cinematographer?
Tom: I enjoy the work of so many great cinematographers but if I had to say who had the biggest impact on my own work so far, I would go with Pierre Mennel, SCS. He was one of my teachers in film school and helped me understand what cinematography is really about.
indieactivity: What is the difference between a cinematography and a DoP?
Tom: That's a very interesting question to ask a Swiss filmmaker. In Switzerland and Germany, we just have one name for it, "Kameramann". As far as I know, and please correct me if I'm wrong, the cinematographer is the camera operator and is responsible for lighting. The D.O.P or DP normally doesn't operate the camera himself. They're more involved in the overall look: the costumes, makeup, and post-production. I call myself a cinematographer, but I'm the DP of "Capelli Code". In the end, it doesn't really matter if I use one title or the other.
indieactivity: What brand of camera is your favourite?
Tom: I always try to find the ONE camera, but clearly there isn't. Every system has its pros and cons. Today, if money isn't the issue, I would use an ARRI.
indieactivity: Why am ARRI?
Tom: I'm not saying that an ARRI is better than a RED camera, but what I like the most about all ARRI cameras is that they're simple and reliable. You just set your LUT, ASA, Shutter, Framerate and you're ready to shoot. You can concentrate on the lighting, the moods you create, and you don't have to think about compression issues, crop factors, and so on. The ARRI Alexa is the camera I use the most. However, if I have to shoot a night scene, for instance, I think there are better options with higher ASA available. An ARRI Alexa is also very expensive to rent. In the end, I'm looking for the camera that works best for the particular movie I'm going to shoot that fits the available budget.
indieactivity: Give us an idea on your gear on an indie production?
Tom: I think it's less about the gear than it is about writing a script that doesn't need fancy cameras and expensive lighting, but I think about a great look from the beginning. When creating a low or no budget movie, you shouldn't try to top a Hollywood blockbuster with fancy set constructions, costumes, cameras or lighting. Try it with a clever story, good actors, and an interesting location. Then take what you have or what you can afford and make the best out of it. And, this is very important: You need a good director, one who listens to you when you tell him what looks good and what doesn't.
indieactivity: Give us an idea of your gear on a big budget?
Tom: I would go with the ARRI Alexa 65 and some really exotic old anamorphic lenses, just because I can. Normally I would never spend so much production money on something only a few people in the audience will enjoy, or even see the difference. But, to quote Hoyte van Hoytema, FSF, NSC about his work on Spectre: "Shooting anamorphic for a project like this is a no-brainer." And that's really it. If you're not using an ARRI Alexa 65 and anamorphic lenses on this one, where would you?
indieactivity: Is there a science behind what you do?
Tom: Learn to see and you can paint with light. At least that's what I try to do. It's art, my taste. There are rules, but you learn them, so you know how to ignore them. There is not really a right or wrong in cinematography, just a right or wrong for the story, maybe.
indieactivity: How do you like to work with your camera crew?
Tom: We are a team, so I like to work with them together, hear their opinions, discuss ideas, etc. But I also challenge them every day like I challenge myself with every project I make. I demand a lot from them, but I will live up to what I ask for. The shooting schedule is always tight and sometimes it can get tense. You need a crew you can rely on and I'm really lucky to have one.
indieactivity: What do you want most from a director?
Tom: A clear vision and confidence in what I can do. I always try to bring their story to the screen in the best way possible. It's very important they know what they want and why they want it like that. There are a lot of incredibly talented directors, but the ones I like the most are those who know how to surround themselves with other talented people in their fields and allow to contribute to the story.
indieactivity: What do you want most from an actor?
Tom: I'm giving everything for each shot, I'm in it with all my heart. I expect the same thing from an actor. On the set of "Capelli Code" in Berlin, Lena Stolze was so good during a shoot, that my 1AC, couldn't hold her emotions anymore and started to cry. It's such a beautiful thing to see this performance through my camera. This is really it!
indieactivity: What advice will you give DoPs around the world?
Tom: Not sure if I'm already in the position to advise anybody. But anyway…Never give up. That might be the most important advice.