I took my first acting class at Grace Dodge Vocational High School and I fell in love with it! I even won the coveted "Drama Award" at my high school graduation. Upon graduation, I decided I wanted to dig a little deeper into the acting world on a professional level so I got booked on my first background gig on NY Undercover. After doing my first full day on a real television production I knew this was what I wanted to do for the rest of my life.
Did you study acting
I knew if I wanted to be taken seriously as an actor and be able to compete in this industry with so many other talented artists I needed to get the proper training. I signed up for various acting classes & workshops held in NYC like monologue technique, scene study, commercial technique as well as learning the "business of acting" because they don't call this "show business" for no reason. I also worked with various acting coaches for private coaching sessions with Marc Jones from "The Barrow Group", Tracey Moore from "The Spirited Actor" and I currently train with Marishka Phillips from "Marishka Phillips Theatrical Prep".
Me & the homie #TraeIreland on the set of #TheHills! #atl #CoCoStudios #actors #movies #ComingSoon #DopeActors pic.twitter.com/HFHVuICexZ

— Tanya Thompson (@tanya_thompson) April 2, 2015
What acting technique do you use
I definitely use the method of "substitution". Using this method has helped me give myself over to the character fully and live as truthfully under these imaginary circumstances.
What wrong impressions do actors hold about acting
Acting is not just memorizing lines and reciting them. Acting is becoming. You have to commit to being a vessel for those characters to live in, breathe through and come alive. Some other misconceptions is that people don't look at acting as a real job that you have to study/train for like any other profession. It is so the opposite because you DO have to study and constantly work on your craft to become a skilled professional actor. Acting is a muscle and the more you exercise it by attending classes, workshops, working with acting coaches, auditioning and eventually working the better you become.
Do you take courses to improve your craft
Absolutely. I take workshops, classes, private coaching sessions to hone my craft as well as to prepare for any upcoming roles that I'm already booked on. I am never not working on my craft. Even when I'm home, I may be reading a book on acting technique, doing research online as well as watching movies of some of my favorite actors to see how they "became" those characters in TV/film.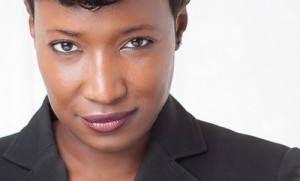 What acting books do you read
My favorite acting book is "The Power of the Actor" by Ivana Chubbuck
How do you keep fit as an actor
As an actor we our body is our "instrument" so we must keep it working right at all times so that we can perform. When you're working you may be on set for 14-16 hours a day for a number of days/weeks at a time so proper nutrition, exercise and most of all rest is necessary. For me personally I know that keeping my spiritual and mental health is just as important to keep healthy as well. I'm very conscious of what I feed my mind on a daily basis and always keep positive energy around me. I start my day in prayer and then after I've fed myself spiritually I move on to the physical by getting in an hour of exercise daily which consists of cardio, strength training, yoga and some meditation. My nutrition helps me operate at my optimal potential as well. As I am a pescatarian, I don't consume any meat, pork, poultry or dairy.
When you're offered a role, what do you do next
Once I am offered a role and I accept it, the first thing I do is read the script three (3) times. 1st to find out who my character is and what is her overall objective in the story, 2nd to find out who the other characters are and their relationship to my character and 3rd to make choices in how I will play the scenes. After I do that, then I create my own extensive character description (separate from the character description I may have already been provided with from production) detailing everything about the character I'm playing, who she is, where she is from, what are her strengths, weaknesses, family structure, character flaws, fears, profession, etc, etc, etc. My own character description that I create can be a few pages long. Once I feel like I know who my character is then I go through the script again with all that ammunition that I just built up with the character description in mind. I begin my memorization techniques and once I'm fully off book then I can begin to "play" with her in many different ways.
How do you take a character in a script to a honest, believable and breathing person
I do this by fully giving my entire being over to this character. I don't judge any characters I play because I feel I'm just a vessel for these people to come through. I use the "substitution method" a lot bringing to mind a time when I may've been faced with a similar situation. This method has definitely helped me to bring forth very sincere believable performances.
How do you stay fresh on set
I stay in character by not breaking character. From the time I get in hair, makeup and wardrobe I "become" whoever I am on set that day. I stay very present and in the moment. I may request to be called my character name throughout the day depending on the extensiveness of the role I'm playing. As well as just my natural desire to want to give my absolute best performance every take, I make a "conscious" effort to "stay fresh".
Tanya Thompson reel from Tanya Thompson on Vimeo.
Describe a memorable character you played
One of the memorable character's I played was the Honorable Judge Elizabeth Stone in a film called "Where Hearts Lie" shot in 2014. This character was a joy to play because she was a strong woman of power. It felt great to be in the judges robe in a courtroom where my character had to make some tough custody decisions. It made me have a new respect for people who are in that particular career. It's not an easy job as the decision you make affects so many people. I'm attracted to roles that show women in authoritative positions. The best part was being able to act alongside Malik Yoba (NY Undercover, Empire) who played an attorney in my courtroom. As NY Undercover was my first acting job in the early 90s and he was the star of that show, it was surreal how life came full circle and I was able to have the opportunity to work alongside him in this scene of the movie. I look forward to this film's release some time this year.
Explain one creative choice you took on set
I played a social worker in a film called "730" and the Director gave us some leeway on set to "play" in the moment of the scene with just using the written words on script as a guide. In the scene my character is letting the parents of a child who is hospitalized know that she has to remove him from the home. I took the liberty of calling my scene partner an "unfit mother" which totally threw her off because we had never rehearsed it with me saying that line to her. Because we were both so present in the moment her reaction to that one line drove her absolutely mad in the scene and it made the scene even more juicy and spicy! We ended up just living in the moment of that scene with and the Director ended up keeping our version in the film. Needless to say that scene was one of the most memorable ones in the film I'm told by many people who have seen it.
What do you want most from a director
I love to work with Directors who know what they want, are professional and know how to communicate their needs to their actors. When a Director has a clear vision for their film and is prepared it just sets the tone for how the entire production will work. I love to work under good leadership.
What actors do you long to work with
Angela Bassett
Why
Angela Bassett is one of the most underrated brilliant actors of our time. She has a powerful onscreen presence. She totally transforms into whoever she is playing and when you watch her work you never see "Angela Bassett" you see that particular character. In a scene full of actors, she is the one that your eyes are locked on. She has a certain energy, aura that just draws the viewer in. To get the opportunity to work with this powerhouse Queen would be an absolute honor.
What advice would you give to actors
My advice to actors is to continue to train and study your craft to be the best that you can be when an opportunity presents itself. Like they say "be ready so you don't have to get ready". Also, acting is a journey…respect all parts of it. You will have days that you will get discouraged and want to quit but don't ever give up. If you do the work and plant the necessary seeds, God will make it grow. Like my acting coach Marishka Phillips always says "The Work Works" so do the work guys.
Briefly write about your career
Tanya is a first generation Carribean American, born and raised in the Bronx, New York. Tanya got her start in the performing arts at the tender age of 5 taking classical piano lessons as well as ballet and tap. The rush Tanya received while on stage was a feeling that would never leave her. Tanya took her first drama class in high school and it was then that she caught the acting bug! She did extremely well in that class, so much so that she received the coveted "Drama Award" at her high school graduation. This gave Tanya the confidence she needed to know that a career in film was her destiny.
Upon graduation, Tanya set out to find her first acting gig. She landed a background "extra" role in the FOX hit TV series "NY Undercover"! The feeling Tanya got on the set with the cast and crew was like no other. She knew she wanted to do this full time. However, being from a conservative family, she was encouraged to take a more traditional career path that would ensure stable salary and benefits.
Tanya took a step away from the spotlight to do just that. She went on to graduate with a Bachelors Degree in Accounting from Berkeley College. This degree helped her land a "stable job" as an Accounting Manager working alongside the CFO at the National Academy of Television Arts & Sciences aka "THE DAYTIME EMMY AWARDS". Tanya worked her way up to Director of Finance as well as the dual role of Director of Special Events. One of the perks of working with the "Daytime Emmy Awards" is that Tanya was not only able to help plan the annual red carpet award show; but she was also able to attend. Every year Tanya would look at the actors of the various Daytime shows getting awarded for what she wanted to do, which was ACT! She no longer wanted to "play it safe".
Tanya decided to take her career in her own hands and left the Emmys to pursue her acting career full-time. She has since worked on numerous films and has not only been in front of the camera but has now started working "behind the lens" as well. Tanya has most recently had the honor of being a Co-Producer on two (2) major feature films starring the incredibly talented Clifton Powell (Ray), Malik Yoba (Empire), Taral Hicks (A Bronx Tale, Belly), Malik Whitfield (If Loving You Is Wrong, The Temptations), Claudia Jordan (Real Housewives of Atlanta), Omar Gooding (Baby Boy, Barber Shop, Smart Guy) and a host of others. She is using all of her experience she gained as an on-camera actress as well as her financial/business background from the Emmys to help other Directors bring their vision to life as one of the Producer's on their projects. This makes Tanya a very valuable asset on any production she is a part of.