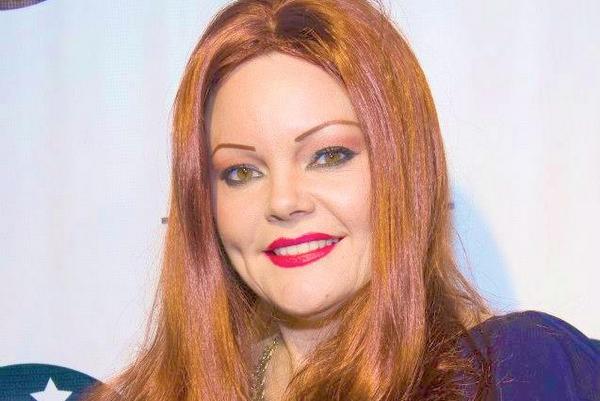 I am a film Actress, Horror Movie Star, Producer, Director and Scream Queen that makes feature horror films in Hollywood. I am the Star of the movies TRICK OF THE WITCH, JENGO HOOPER, HEAVY MAKEUP, LIPGLOSS EXPLOSION and SUPERSTAR FEMALE SERIAL KILLER, as well as Premiere Hostess of the RIP HORROR FILM FESTIVAL.
Currently I am shooting the feature film JENGO HOOPER RETURNS due to hit theaters in 2017, as well a planning a Weekly variety show in which I will be interviewing up and coming actors, celebrities and filmmakers.
I am Currently on the BOARD OF DIRECTORS for the ACADEMY OF FILM FESTIVALS AND CEO of THIRTEEN 3'S ENTERTAINMENT COMPANY.
My film @trickofthewitch red carpet screening & party Sat NOV 12 9pm Los Feliz Cinema #Hollywood #womeninfilm #filmmaking #celebrity #horror pic.twitter.com/48xL8Q4N7G

— SHARE CHERRIE (@sharecherrie) October 11, 2016
Describe your work as a producer and or agent
As a producer I am involved in all aspects of making a feature film from preproduction to final product. I am involved in everything from what type of camera we will use, the casting of actors, location scouting and approval, behind the scenes safety and organization, and I even have a say in what we will all eat for lunch.
How did you get into producing
After a brief hiatus from acting, I wanted to get into producing and had an idea to make a film with my good friend Film Director Chris Morrissey, we started brainstorming ideas and started production. The final outcome was the movie Trick of the Witch which has since won multiple awards including Best Horror Feature and the Audience Choice Awards and various film festivals. From then I fell in love with producing.
Did you study producing
I didn't study producing; I studied acting, fashion and graphic art.
How do you choose a project to produce
Do I like the storyline and the script; Do I believe in the filmmaker's vision and ability to finish a project. If these questions are a yes, then I get on board.
Describe a few wrong impressions about producing
I believe some wrong impressions that many may have is that you have to have an extensive background in filmmaking and very deep pockets, this isn't true. What you do have to have is impeccable gumption and a drive to get work done at all cost. You need to be able to focus and achieve and that needs to be engraved in your mind set and work ethic. Once you commit, you have to see the project through until the end — which is a very long process since films have a long lifespan way after the production process is complete.
Do you take courses to improve your craft
I am open to it, but I have learned more being in the eye of the storm on a film set. I watch and learn. I believe proper work education comes from actually being involved in a project and learning from others. Listening and learning has always worked best for me.
What books do you read
I read a ton of books, none of which has to do with film making. Mostly I enjoy travel books so I can daydream about places to go visit. I also enjoy books about the Golden age of Hollywood, I admire and respect that time and consider myself a trivial historian on the era.
Met Elijah Wood @woodelijah last night! Super sweet guy! <3 Can't wait to see his new movie #Cooties pic.twitter.com/eKiuisUIu8

— SHARE CHERRIE (@sharecherrie) August 26, 2013
How do you keep in shape as a producer
Between (and during) film shoots, I am a accomplished half marathon runner and I train weekly for that. I also practice Yoga, and enjoy swimming.
What do you look for when you choose an actor, writer or director
I look for passion in a director, talent and good storytelling in a writer and for actors, I ask myself, what do they bring to the character. I advise my whole team that we are a family once chosen. You go through many ups and downs during the filmmaking process and you form a bond with many of the other performers and crew on a film set.
How do you go about a project when you accept the offer
I ask for the script so I can read it, if the script is not available, I ask for a private meeting about the project. Sometimes the script doesn't reflect the true vision of the filmmaker, but meeting with them and seeing how passionate they are about their project will give you an idea of what can be accomplished.
What thing or situation helps your work on a production
Coordination and having everyone involved on board and working passionately towards the final goal.
Explain a creative choice you took on set of a recent production
As an actress, I like to dig deep and assist in the development of my character. I write out a character profile and create a journal for myself with their history. I also enjoy siting down and talking with the director about the character I am portraying to form a solid background.
On the set of my new film #Jengo (The Movie) I play Shelly, cocaine junkie, LA Party Girl, Loca pic.twitter.com/QyguvIOT

— SHARE CHERRIE (@sharecherrie) October 7, 2012
How do you advice actors to find projects
My best advice would be to find time to network and attend functions where you will meet other actors, directors and producers. It's important to work on scenes with other actors outside of a film project. It keeps your brain sharp and focused. Also, doing student projects and short films gives you an idea of what being on a film set is like. Early on, I also started by doing background work. Your first jobs will not always be a starring role, but getting your foot in the door and showing you are a team player can do wonders for your career.
How can filmmakers finance their projects
Some get funding from sponsors, and some self finance your first project. Others turn to indie go go but I have never tried that.
What do you want from a director during production
Direction, one on one coaching and time to develop my character with me.
How do you prefer to work with a director during a production
He or she will become my best friend and we will be glued to the hips.
Do you get offers from overseas
I have received offers from filmmakers in other countries to work on their projects, but most of the films I have done have shot here in Los Angeles. I would love to work on a production from one of these two regions though!!! I do get scouted for roles from directors and producers that may have seen my previous work or follow me on social media.
Knuckleheads Premier @ the AOF Int'l Film Festival, Krikorian Theatre in Monrovia CA. #AOFINTLFILMFEST pic.twitter.com/zvILeQ70

— SHARE CHERRIE (@sharecherrie) August 19, 2012
What can an actor do to get into the industry
Start by doing student films, local workshops, stage plays/community theater, extra work… get on set and learn the craft.
Who is your favorite producer
My favorite has always been Mary Pickford.
Why
Because she was a mogul, all encompassing, she wrote, directed, produced and was Americas sweetheart. She was a leader in her time and she opened the door for may inspiring young filmmakers
What advice do you have for actors
Follow your dream and don't let anyone tell you no.
Briefly write about your career
I have starred in 8 feature films and have earned the title of Indie Scream Queen as well as Indie Movie Starlet. I am the star of the feature films HEAVY MAKEUP, TRICK OF THE WITCH, JENGO HOOPER, LIPGLOSS EXPLOSION!, FASHION MURDER GROOVE, SUPERSTAR FEMALE SERIAL KILLER, JENGO HOOPER RETURNS AND KLOHN! I have learned the art of filmmaking while involved in these projects and like to make myself a valuable behind the scenes team member as well. I have recently been nominated for a BEST ACTRESS award from my portrayal of Krista in TRICK OF THE WITCH.