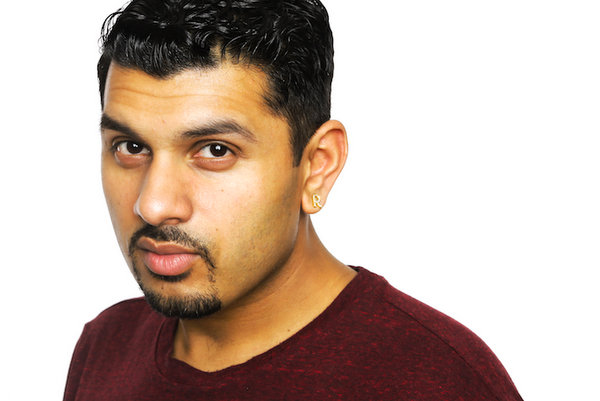 The first time Ron Dias ever acted was in theatre, he did plays in school. He was 12 when he did West Side Story and then he did Merchant of Venice. Ron Dias thinks the real moment was when he was on stage and there was a certain vibration and energy he felt and he didn't want that feeling to leave. Of course, it leaves once the curtains close.
The acting bug was always in him no matter what he did Ron was drawn to the entertainment industry and the Arts. Ron never had too many friends growing up, He used to practice all sort of accents as a kid and those were his friends. He would write a lot as well, Ron would be aware of his surroundings, people's behavior, he would even write down arguments he would hear other people having, those were his characters.
indieactivity: Did you study acting?
Ron: I was always trying to find a way to create a movie, or series it just never panned out. I was already was on YouTube and it was a great platform. It gave me a chance to be seen. Being on YouTube wasn't enough for me, I wanted to be great. I wanted to be a great actor as well, not just a You-Tuber. As an actor starting off its very hard to grasp on how to study or even how to start studying. I had studied with a few coaches but it was a waste of money for me.
Stuff they were trying to teach did not resonate with me. It was all Method acting, or some sort of technique which I never felt was something acting was about. It was good for stage acting because that's all show, but film acting is all about knowing and listening. The only reason I know this is because I had finally found an amazing coach by the name of Earl Nanhu, he's a legend. He has helped me a lot and really trained me to be where I need to be. I still train with him.
indieactivity: What acting technique do you use?
Ron: Many of us search for techniques like Method acting, sense memory. I did those mistakes as well. I would suggest that if you want to get into film acting. Abandon those techniques. Study life, introduce yourself with all genres of music, embrace yourself with world history, lose your ego, and really try to understand and listen to people. Watch the news, understand the things that is going on in the world we live in.
Always read amazing books and scripts if you can, and not just read the surface of things, but really look deep into things and really see what people are trying to show you. All of these things will help be a better actor because when someone comes to you with an amazing script, with everything you know, you can bring that script to life with your vivid imagination. That's how magic happens on screen. That's the difference with someone acting and someone living the character's imaginary circumstance on screen. For film you want to see life, not an acting playing it because that would simply just be a stage play.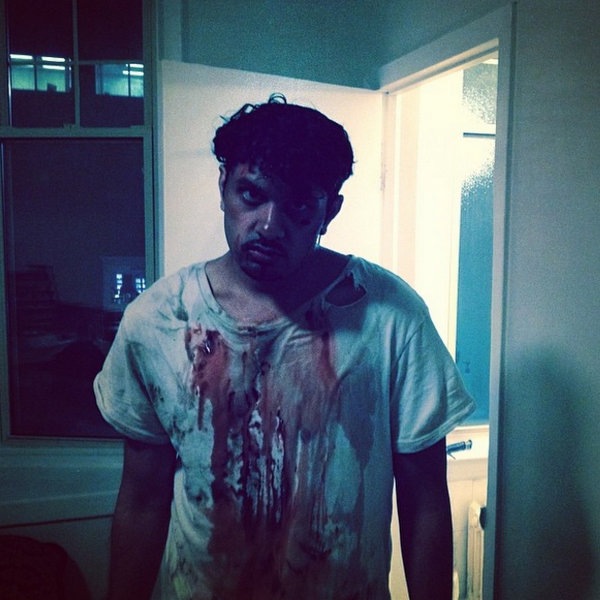 indieactivity: Do you take courses to improve your craft?
Ron: Evn Film Studios in Toronto, He has trained a lot big people Shay Mitchell, Nelly Furtado, Emmanuel Kabongo to name a few. Although he keeps himself hidden he's an amazing coach. I'm so glad to have found him and be able to still train with him.
indieactivity: What acting books do you read?
Ron: I don't read too many books on acting itself. I find there is much better books that will improve yourself as an actor and understand life. Books that I read and still read over are "The Alchemist" by Paulo Coelho, "Ishmael" by Daniel Quinn, "The Four Agreements" by Don Miguel Ruiz, "Acting in Film" by Michael Caine and a lot of Autobiographies, Documentaries.
indieactivity: How do you keep fit as an actor?
Ron: I try to meditate every single day for at least ten minutes. Its very hard for someone to sit in silence, everyone is checking their phone. Social media has ruined a lot for us people to appreciate life but I believe there is still hope. Mentally I need to keep myself happy, studying helps, training, working on monologues. I actually thrive to look for really good pieces and work on them. Physically, I do eat healthy and I've lost substantial amount of weight I use to weigh about 230 pounds at one point and now down to 180.
indieactivity: How do you prepare for a role when you get one?
Ron: Well I always read the script once for pleasure, every time I read it after that is because as an actor you must be a script detective and see what the writer has written, it's much deeper that the words that appear on the script. Any good piece of writing, the writer has put in clues for the actor to really understand that life. Memorizing the lines is the last thing I do, but by the time I do all the work for the character the lines naturally just come into place.
indieactivity: How do you create a character in a script into a person?
Ron: It really depends on the script and the story. I always start on emotion first before looks. I need to know what the circumstance is for the character, who am I, what do I want, how does I feel. Its very important to know the character before committing any lines, accents, clothing, tone of voice, inflection, how the character would move dress, walk.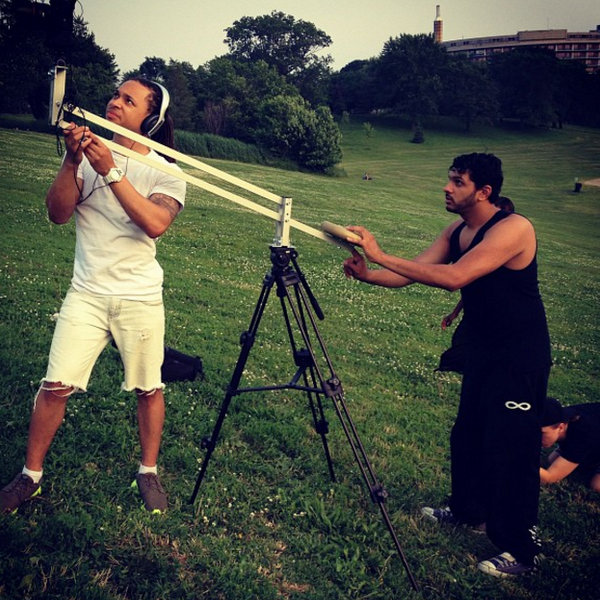 indieactivity: How do you stay fresh on a production set?
Ron: You will never have an identical take, but every time the crew slates. As an actor you need to do your job and play the character and give it your all. It is easier to just stay in character in between takes and stay focused.
indieactivity: Describe a memorable character you played?
Ron: A memorable character is a film I did a few years ago, where I had to play someone who was kidnapped, and starved to death for weeks. I had to lose a ridiculous amount of weight and all the dialogue was in Spanish. I had lost the weight in 40 days or so.
indieactivity: Explain one creative choice you took on set?
Ron: I had to improv a lot on a scene that the director had written on the spot because he had seen something I did. He had told me to play the character as though there was a balance between some what of a jerk but still humanized. It came out really good.
indieactivity: What do you want most from a director?
Ron: Honesty, I like a Director to tell me exactly what he/she wants from me. Then after to be left alone and let me do my job.
indieactivity: What artists do you long to work with?
Ron: I have a list but James Franco would be on there for sure. Judd Apatow, At some point I'd love to work with Kevin Hart. Of course there is also the great ones, the Scorsese, Spike lee, Spielberg.
indieactivity: Why?
Ron: James is someone I look up to as a director, writer, actor all around I think he's amazing. Kevin hart because I think I would be able to write him an amazing part after reading his book. He is so funny but I think he had a lot of dark moments in his life that i'd love to see on screen. All the great ones because of their catalogues, the amount I can learn and study from them.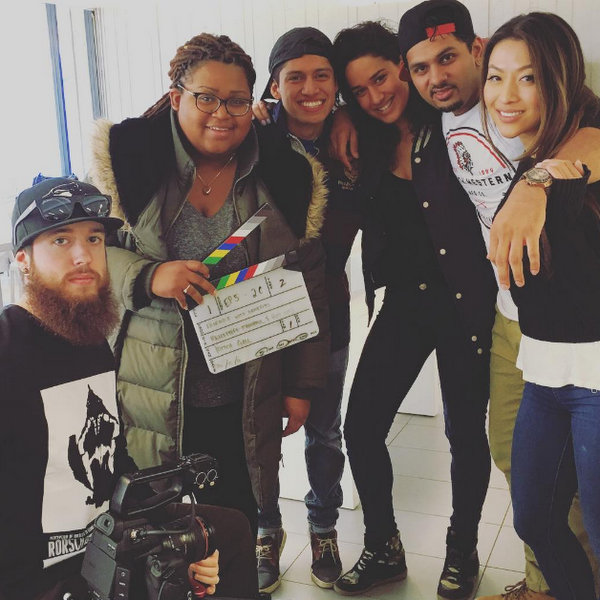 indieactivity: What advice would you give to actors?
Ron: Study, 7 days a week 8 hours a day. Study as much as you can, you only are preparing yourself for the best of opportunities.
indieactivity: Briefly write about your career?
Ron: I really started to get my feet wet as a background actor first in 2008, I was a dancer in The Love Guru, I was a lab worker in Incredible Hulk. I just needed to know what it would feel like to be on set. I then started with short films, writing my own stuff. I realized I can do this myself, and I created my own films, some ended up on my YouTube channel. I kept going made my own web series with my friend Joanne Jansen from Shadow Hunters and the series achieved success about 2.5 million views and it's going strong. It's called "Friends with Benefits" which originally Issa Rae (insecure on HBO, Awkward Black girl) had interest in, but I had already had a date of release on my channel. I just keep going and keep going and I don't plan to ever stop working (doing what I love). I will eventually be making feature films, I've already written a few.