Hello, I am Camille Carida. I knew I wanted to be an actor from as far back as I can remember. I loved performing in front of friends and family and I did all the regular shows kids do in school. I feel like I understood things like subtext and what people were feeling intuitively at a very young age. I could also imitate people really well. I loved making people laugh and I loved pretending I was other people. In my freshman year in high school I got cast in a lead role in the Spring Play. That was a pretty big deal. I needed to act. My childhood was turbulent and I needed a place to channel my feelings and rage. In many ways, I feel like acting saved my life. I had my first professional acting job while I was in college performing Tennessee William's "Talk To Me Like The Rain and Let Me Listen" at the Austin Arts Center in Hartford, CT.
Ever Been on a Bad Date? https://t.co/h6IUij5INk #comedy #webisode #baddates #dating pic.twitter.com/uyK0UluH3H

— Camille Carida (@camillecarida) November 19, 2015
Did you study acting
I never wanted to do anything else besides acting. During the summers in high school, I would travel every summer to study acting at places like Carnegie Mellon and Harvard/Loeb Drama Summer Programs. I went to Trinity College in Hartford, CT and majored in Theater and Dance. There was a strong emphasis on movement and physical theater and I trained in the Grotowski technique. Trinity also had a program with the La Mama Theater in NYC where you could take a semester in NYC, take classes 3 days a week, and intern at a theater 2 days a week. My internship was with Judith Malina's The Living Theater. The company had made history in many ways with its revolutionary politics. After I graduated from college, I worked with Tina Packer's Shakespeare & Co and studied Linklater voice, Stage Combat, Shakespeare, Acting, & Elizabethan dance. I loved it there. In NYC, I spent 4 years studying with Michael Howard who had a profound influence on me as an actor and as an artist. Most recently, I studied and continue to coach with Ivana Chubbuck. She has a brilliant understanding of human behavior. Her method goes beyond being truthful and honest, it forces you to make the most empowered choices for a character. She took my acting to a whole other level. Her commitment to her students, her passion for what she does, and her brilliance are an incredible gift. I would have to say she's the best acting teacher I've ever had.
As an actor, you write, tell us about your writing
I've always written, needed to write. As a child, I kept a diary that I wrote in faithfully every night from 2nd grade to my Junior year in high school. It came from a place of needing to make sense of things. I was in a lot of emotional pain as a child. I felt very alone and the act of writing was something that helped ease that pain.
After moving to LA, I got very frustrated when I wasn't working. I had to be productive and creative in the downtime, so I started writing primarily as a way to create projects I could act in. At that time, making a film required a lot of money or getting an investor. Digital video was just coming on the scene. I co-wrote a short film that I produced and acted in called The Beautiful Lie, a drama about the friendship that develops between 2 women who work in the sex industry. My co-writer was a budding director who had a digital camera. It's funny though. People told me I was crazy to waste my time shooting something on digital. At the time, digital was a dirty word. Now look at things.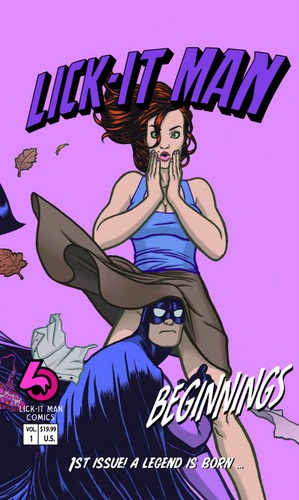 I find writing alone difficult and so most of my screenplays have been co-written. My writing partner Glory Simon and I wrote a female driven comedy called "Busted," and based on that script, we were hired by Gill Holland and Lillian LaSalle to write another feature length screenplay called "Til Love Due Us Part". My latest writing venture has been the most successful to date, a full color humorous graphic novel called "LICK-IT MAN" that is based on some original characters and a short film that I produced. The ebook hit #1 in three separate categories on Amazon. I owe a good deal of that success to my illustrator Joe Quinones. I hired him right out of RISDY and he has gone on to do major titles for Marvel & DC Comics.
I have to put in the work to any acting gig, but it comes easy to me, unlike writing, which is more tedious and difficult and requires me to set a time every day and a clock in order to do it. You cannot wait for inspiration to come to start writing. Otherwise you'll never end up writing anything. You have to commit to doing it on a schedule whether you feel like writing or not. Oliver Stone said, "Ass in chair equals screenplay."
Do you take courses to improve your craft
I love learning. I love stretching out of my comfort zone. It gives me a magic and spark that I need as an artist. I don't like laziness in myself or others. So yes, I do all of the above. Sometimes I need to be in class, and then sometimes I just private coach. It's like reading a book. The first time you read it, you get certain things. But when you go back and read it again, it has deeper meaning and significance. You notice things or understand things that you may not have the first time. I think acting is a lot like that. There's always more to learn. You can have a technique, but stretching yourself and working out as an actor is important. I also learn a lot from watching other actors work and be coached. Plus, in a fun competitive way, when you go to a Master class and see great work, it kicks your butt to want to match that. We raise the bar for each other.
What books do you read
I read a lot of fiction, great for character development and imagination. I always refer to "The Power of the Actor" by Ivana Chubbuck. "Beautiful Ruins" by Jess Walter is a phenomenal book. I love a lot of the characters in books by Alexander McCall Smith. And biographies are great. I read Lucille Ball's biography and I had no idea that she and Ricky Ricardo actually created the multi-cam 3 camera show. The great thing about biographies is that you see how successful people overcame obstacles, battled their own self doubt and failures, and turned "failures" into eventual wins. Books that influenced my acting were Stanislavski, Michael Shurtleff's Audition and Nikos Psacharopoulos "Towards Mastery". I remember when I read the book "Push" by Sapphire. I could only read a page at a time, put it down and cry my eyes out, and then go back to it. Eventually a film based on the book was made called "Precious" where Mo'Nique just shredded my heart as the mom. The incredible thing about the book is that it was written with Precious's grammatical errors and incorrect spelling and then you saw how her skills improved under the teacher's influence. My favorite book of all time is "A Moveable Feast" by Hemingway. I loved how he wrote about F. Scott Fitzgerald. I love sentences that are so well crafted that I have to reread them over and over again.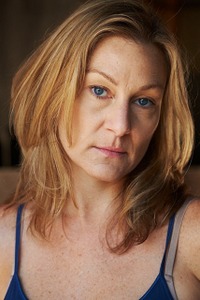 How do you keep fit as an actor
One of the ways I stay fit as an artist is to watch and re-watch incredible film performances. It inspires me. Like the monologue in the beginning The Fugitive Kind, based on the play "Orpheus Descending", where Marlon Brando talks to a judge. The scene is over 3 minutes and there are no cuts. It's mesmerizing. Al Pacino in the scene in "And Justice For All" where he approaches the lawyer in the parking lot to tell him he screwed up and his client is dead. Meryl Streep in anything. I can watch great performances over and over again. I like to talk to all kinds of people, listen to their stories. In a safe way, of course, but people, especially a lot of old people, are dying to be acknowledged and tell you about their lives. It's also important for me to surround myself and spend time with people who have a lot of humanity.
When you're offered a role, what do you do next
I read the script once, put it down, and take a walk and let it sink in and think about the character and what drives them. I let it float around in me for a while. Then I'll jot down notes and my first instincts about the character and the story. I'll read the script again a few more times and start breaking it down in terms of objective, obstacles, beats & actions, relationships, inner objects. I look at the who am I of the character, what drives them, and then I will personalize the previous circumstances of the character with my own life. So that everything I say or do is detailed and specific and has meaning. There's a lot of writing on my scripts. Then take that preparation into rehearsal. An actor must know how to rehearse. An actor must be prepared. The time spent preparing for a role and doing the work on the script is what makes the actor. It's what makes careers. Some roles require research. Some require new skills like firing a gun or delivering a baby, or making it believable that you know how to do it. That's one of the things that I love about acting. Every role, every character is different and it's never the same exact way in each time. I love that.
How do you take a character in a script to a honest, believable and breathing person
I break it down and then personalize. I make choices about the who am I? of the character. What drives them and how do they maneuver the world. Then I look at the previous circumstances, and personalize them in detail. Sometimes I use people or pieces of people I've known. For comedy, I do the same thing, but I make everything higher stakes, everything is more important to me and not getting what I want is life or death. There is the preparation, then letting go and getting on the set and living. Living, listening, and responding in the moment, moment to moment. And then letting the magic happen, the surprises and going with them. The preparation I do allows me to be free and in the moment.

How do you stay fresh on set
Once I'm in character, it's there. If we have to break for lunch, etc. I keep it close, I'll come out a bit, but I keep it close. For very emotional scenes, I like to do an emotional diary. It's a technique Ivana Chubbuck teaches and it's incredibly powerful and puts you in an immediate, connected, primal need place. You don't need to "work up" emotions, they are there after you write an emotional diary. I do this all the time before auditions too. When I'm playing a mom, I make sure to connect with the actor playing my child, to spend a lot of time with them, and to have fun with them so that we develop trust and that bond that we need to play parent and child.
Explain your writing process
Acting is Camille Carida first love, it comes to me easily, and I leap towards the projects I have signed on to. Writing is much more difficult for me. Once I get started, I'm okay. But the impetus to get started is very difficult. And just like when you are on set on network tv or doing Equity regional theater in front of 300 high ticket audience members, it doesn't matter how you feel, you must deliver. All of the three short films, the graphic novel, and screenplays I have worked on are co-written. In each case, the story was always my idea, but the partnership and bouncing off of ideas, dialogue was very helpful and I thrived on it. What does one write about? Well, I do believe that you write what you know. You write something that needs to be told, a story you have to tell. Or else, it's just too easy not to sit down and write. In looking at my work, I can see that there are themes of female identity and sexuality, oppression vs. liberation, and then raunchy fun comedy which is what my writing partner and I have been hired to write. I've never written a novel. I've written screenplays and a comic book/graphic novel. Both of those mediums are dense. There is freedom in a novel, but a screenplay is dense. You must start as far into the scene as possible, you must know the turning points, every character must sound different, and you have to remember it's a visual medium. It requires a knife. It requires cutting scenes you adore. It's a different skill. I think I developed this skill reading so many scripts as an actor and also by taking a course called The Actors Bootcamp which forced you to structure the script in such a way that you filled it in. Starting to write a script from the first scene and go from there…well maybe, but you will end up having a lot of rewrites. If you know the scenes and thing you have to hit before hand you save yourself a lot of time. I have friends who are professional writers and they tell me they write everyday and can write anywhere. It's harder for me. God bless them, they are the storytellers. And it starts and ends with the story.

Describe a memorable character you played
Bunny in "Bethleham, PA" by playwright Suzanne Bradbeer. 2004 City Theater Summer Shorts Festival in Miami. Bunny was a stripper turned modern dancer who is rehearsing a dance for a Christmas pageant and unexpectantly meets and connects with her neighbor who is burrying his pet rabbit in the backyard. Playing Bunny was the most fun I ever had playing a character. I choreographed the christmas pageant dance she does in the play, she does a pageant dance to Barry White's Can't Get Enough Of You, Babe. It was wacky and off the wall and no holds barred and I got a standing ovation after the dance every night. There are times when I am guarded in real life, so it's fun to just play a character who navigates life with full abandon.
What do you want most from a director
A balance of guidance and freedom. I don't like to be micro managed. That is stifling, and usually a sign of inexperience. Over the years, I've learned that no news is good news. If the director is not saying anything to you, then keep doing what you're doing. This is why it's so important for an actor to have confidence, confidence in their craft and choices. In film there is more repair and time taken. TV moves faster and you have to deliver first take. You have to deliver first take in the audition room. That confidence comes from training and experience. I like directors who know how to talk to actors. That's a skill because each actor has their own process. I (Camille Carida) directed my first film a few years ago, called Winner Takes All. I was directing four men who all had different needs and techniques. One of the actors needed me to just let him do his thing, one of them needed his hand held and reassurance, and one needed metaphors as triggers to fill the scene.
What actors do you long to work with
There are many actors I long to work with. Meryl Streep, Al Pacino, Leonardo DiCaprio, Viola Davis, Julianne Moore, Bill Murray, George Clooney. Gosh, there are so many actors I would love to work with. I would have loved to have worked with Jack Lemmon, and of course, Philip Seymour Hoffman.
Why
I have grown up watching him grow. He gives so much to each role. Obviously I respect so many actors and actresses but I have always had a tendency to be drawn to leo's roles. I think he would just be a very progressive and positive person and professional to be around.
What advice would you give to actors
I believe mentorship is very important. This business is different than many others in that it's not always a linear path. In many professions, if you do A, you get to B, if you do B, you get to C. In the acting profession, you could go from A to Z, you could go from A to B to C, You could go to B and stay there or quit. I think it's important for young artist, actually artists of all ages, to have mentorship or listen to stories or advice from other people who have been able to achieve a certain amount of success. One, they realize they are not alone in the frustration and desire. And two, even if it's just a snippet of something someone says, or an idea, then that information could help guide them or reinvigorate them. Best advice I can give actors is to let them know that no one is going to do it for them. You have to put in the hours and the work. Don't be lazy or entitled. Especially in today's environment where it's easy to create content and get your own content seen. It wasn't until I moved to NYC after college that I started to pursue film and television. I had a craft and a love of the art, determination, and drive, but I did not have the business skills. That was something I was never taught and I wish I had learned earlier.
Briefly write about your career
Camille Carida started out in theater before moving on to do film and television. I remember an actor telling me that the way to become a great actor is to play the great roles. Well, those very often happen to be in theater, unless you get the opportunity to play a lead in a great indie film.
I play women. I always have. I was never the ingenue, even when I was young. I skipped that phase. Maybe it was in my eyes that I knew too much or had seen too much. I play ambitious career women fighting for justice, damaged women trying to make a better life for themselves, world weary barflys, strong, smart, sexy broads that can go head to head with the men. Comedically, I play the neurotic therapist, the logical smart one, or off the wall, zany characters with a big heart. It's important to know what you play well and develop that so you can be the best in your category. You may have to be willing to give up some of your ego's ideas of yourself, but you will get roles and work. And more than anything, I think real actors love the doing of acting. They are most happy and joyous when they are in the zone. The pursuit of getting work as an actor is often 75% of your time. As Socrates said, "Know thyself." And you have to be strong. I don't know of another career where there is so much rejection. If you think about it, an actor must have a very strong psyche so persist despite so much rejection. Actors are strong, resilient people. In my art, my roles, my life, I believe that I must address and incorporate hope.
Extra on Edtech website-I have been developing an arts in education edtech "education technology" platform for kids and families who love the performing arts and want an honest, direct, no nonsense instruction on how to do that in the major and minor markets. Kids and their families will be able to get free information, resources, classes, and assignments (features) to develop and learn business skills. In addition to courses like Acting, On-Camera, & Comedy, we have Life Skills and The Biz. I pitched the idea to two Silicon Valley investors who backed the project. We launch in a week or two. I've been working 12-16 hour days, but the arts in education is part of my life mission. Putting ideas together in a new way is a type of intelligence that Einstein, Steve Jobs knew the value and importance of. It's a kind of intelligence that taps into hope and leadership and innovation. It also allows for problem solving, creative thinking, creates leadership and change. The arts allow for that. The arts are often the first thing to be cut in our public school system. But creativity and self expression are absolutely essential for children to develop in a whole way, a way that incorporates humanity, tolerance, love, and understanding.
Website | IMDB | Book | Facebook | Twitter | Instagram | YouTube