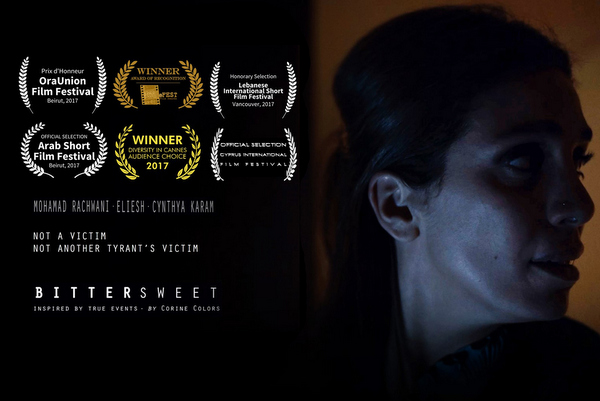 'Bittersweet' by Corine Colors is an independent, Lebanese, low-budget, production. It is a parable that tells the story of a woman defying a tyrant and relaying a bittersweet lesson to her son. Bittersweet by Corine Colors also subtly hints at the nuanced difference between a hero and a victim – two different words often used interchangeably (especially in Lebanon and the Middle-East). Bittersweet is a reaction to corruption and intends to change us, not reaffirm us.
Among several screenings, awards, and achievements, Bittersweet was the only debut independent Lebanese short film production to have screened in Cannes during the 70th Cannes Film Festival within an independent section: Diversity In Cannes where it won the 'Audience Choice' Award.
Bittersweet – Trailer from Corine Colors on Vimeo.
Today, Bittersweet is flying along the Mediterranean once again to compete in the Cyprus International Film Festival. Also, Bittersweet received an honorary selection in Vancouver at the Lebanese International Film Festival and screened to the Lebanese Ambassador and to a select audience of Lebanese emigrants to promote social change within Lebanon and to promote Lebanese Cinema which is, today, largely under-financed, censored, and poorly supported.
Roberto Attieh – the main writer of Bittersweet – is a socially conscious screenwriter who chose to forward a woman protagonist to convey the message and values Bittersweet stands for. Additionally, Bittersweet featured Women in most key creative roles (Director, Producer, Lead Role, Cinematographer, Editor, etc.) and for that, it competed within the Indie Fest Film Awards and won the Award of Recognition: Women Filmmaker.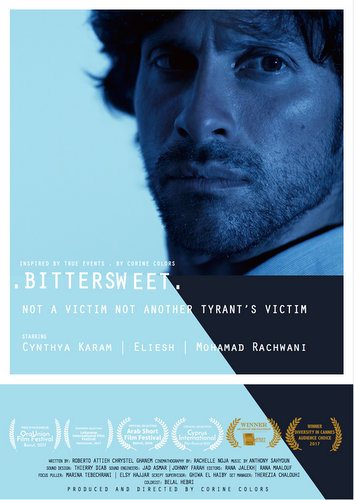 Festival Run:
1. Winner: Audience Choice Award – Beyond Borders: Diversity In Cannes – France, Cannes
2. Winner: Award of Recognition: Women Filmmaker – The IndieFEST Film Awards – USA, CA
3. Official Selection – Arab Short Film Festival (13th Edition) – Lebanon, Beirut
4. Official Selection – Cyprus International Film Festival – Paphos, Cyprus
5. Jury Award of Honor – OraUnion Film Festival – Lebanon, Beirut
6. Honorable Selection – International Lebanese Short Film Festival – Vancouver, Canada
---